Heathrow Airport Arrivals
Flight arrivals Heathrow – online board won't let you miss your flight
No matter if you travel often or not, you are sure to know, that it's important to check the arrival time of an aircraft to coordinate your further plans. Our site allows checking Heathrow live arrivals in no time, just check our online board. It shows the arrival time of the flight you need and you can check it at any time and at any place.
It's very important to monitor the online board in real time. Flight Delays for various reasons are a usual thing nowadays and it's better to track the Arrivals on our site to map out your time accordingly.
Heathrow online board allows checking:
The information provided on our site is synchronized with Heathrow's department of home and international flights. Still, you should keep in mind that the updates might be seen with a slight delay. Our site is not the direct information provider and bears no responsibility for the possible discrepancies on the online board, even though we accurately show all the data displayed on Heathrow's official boards. It is easy to use our online board and the service is completely free.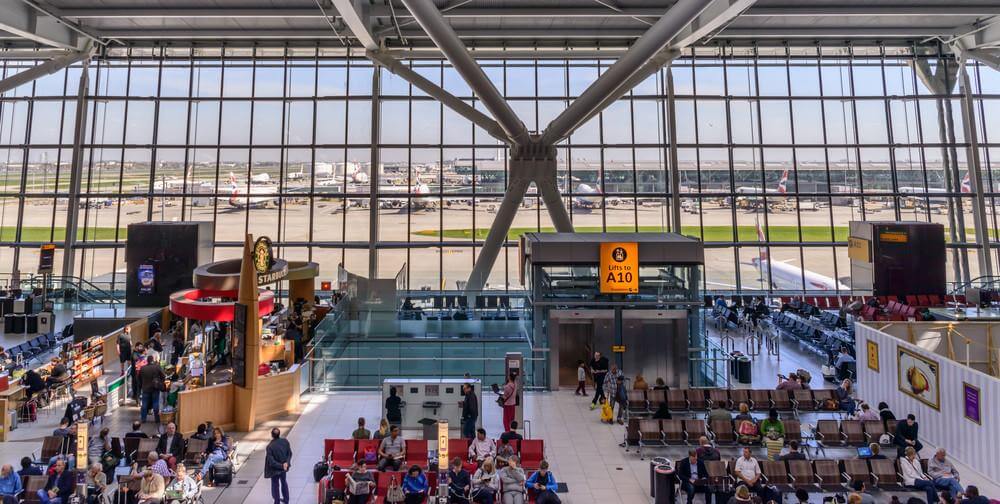 To find out the arrival time of a certain flight for tomorrow, you have to visit our site's board after midnight or on the day of the flight. All the Arrival boards display the arrival time for the current day.
We provide the information about all the flights arriving at Heathrow. It's easy to find the aircraft you require, due to a simple board interface. You'll face no difficulties while using it, just pick the necessary flight out of the list of live flight arrivals Heathrow and you will be able to check the flight you are interested in and make proper planning. The information is updated in a real-time mode. Many travelers have already appreciated the advantages of London Heathrow Arrivals Online Board, you'll definitely see the value at it as well.
It's not a secret that the flight schedule can be extremely changeable in the popular busy airports, and the shifts in it are quite a common regular thing. The flights are subjected to multiple factors and the most important is often weather conditions. To avoid sitting in the airports hours on end waiting to meet the necessary flight, you should simply check the information on our site. You can also plan your arrival time in advance.
More information about the flight can be gained in addition to schedule shifts details. The following data is displayed on our board:
As you can see, everything is rather convenient and useful.
Online board LHR arrivals: сheck Heathrow Terminals with us
Clicking by this link allows you to see the Flights Arrival Timetable for each Heathrow Terminal in the necessary time of the present or following day.
LHR Baggage reclaim
As soon as you've passed the passport control, proceed to Heathrow airport arrivals and to the zone of luggage reclaim. The information about all the arriving flights is displayed on the airport's information screens, just wait until the number of your carousel is shown, then pick up your belongings. Baggage trolleys are offered at Heathrow free of charge to the passengers, they can be found in the reclaim hall area.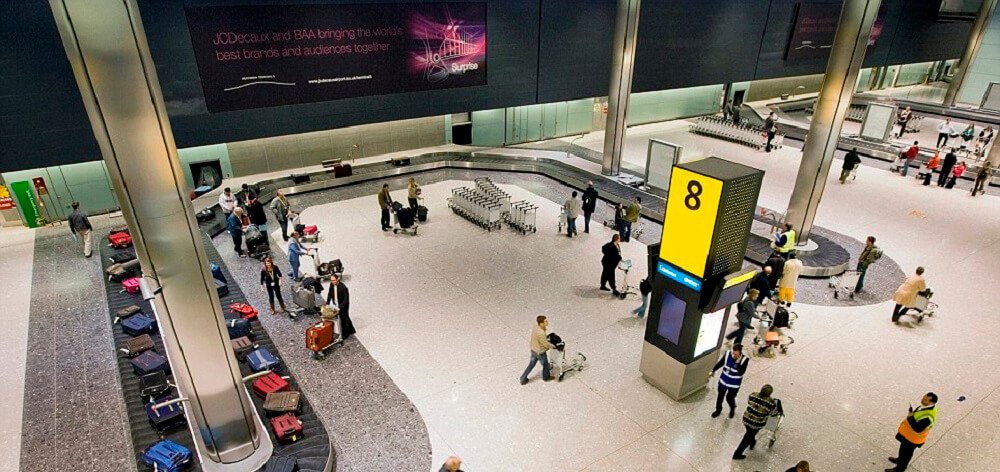 Baggage enquiries at LHR
The airline company you are traveling with, bears full responsibility for your baggage, from the moment you checked in at the airport of your departure, till you collect your luggage at London Heathrow. Still, there are various unexpected situations, which may happen to your suitcases during the fight.
In case you need to make an enquiry related to your baggage, contact the airline company, which operated your flight. You can also turn to a handling agent in the area of LHR luggage reclaim. Please contact your airline immediately, once you've found out you left anything in an airline bus or onboard.
Left baggage offices can be found in the following locations:
All the offices operate from 5:00 till 23:00 except for the one in the fourth Terminal, which starts its work at 5:30.
Excess Baggage offers extra services, connected with baggage, such as its wrapping, courier shipping, delivery, and travel accessories. No storage lockers are presupposed for luggage at Heathrow, because of security concerns.
Customs office at Heathrow
After the baggage reclaims, the travelers arriving at Heathrow pass the UK Customs, only then they can proceed to the public area of the airport.
Which Customs to exit?
If you started your trip in some of the countries of the EU, you should
go to the blue exit if you have nothing to declare;
proceed to the red Customs point if you have goods subject to declaration.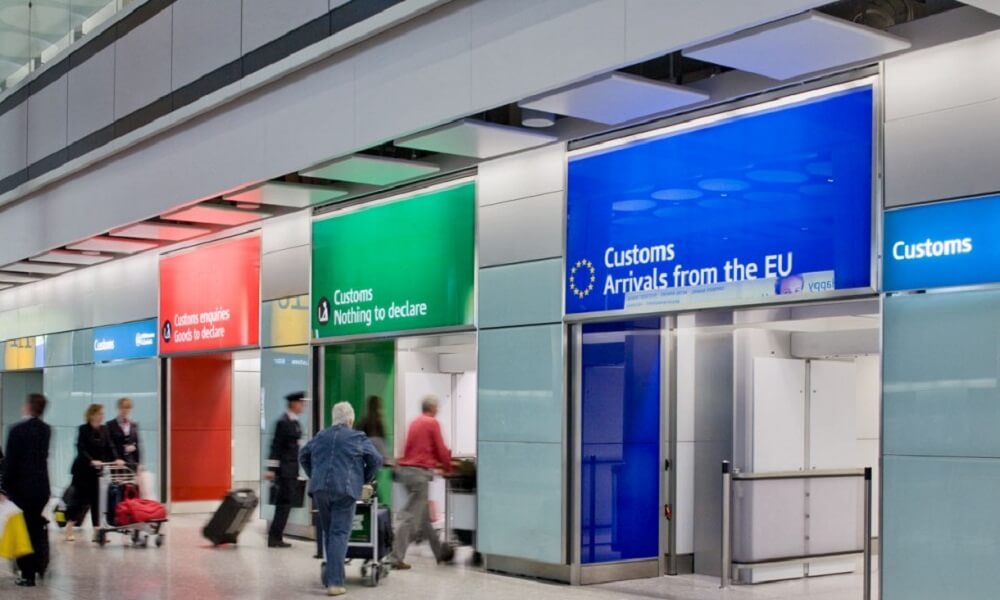 In case your flight started outside the European Union, use the green exit if you don't have anything to declare or as well to the red Customs point if you have something, which needs to be declared.
Arrivals hall
If you'd want to buy some present or something for yourself, visit the World Shopping. It's a wonderful store located outside the Customs Point exit, which will surprise you with its prices for perfumes, electric goods, wines and Champaign. You'll also find cafes and restaurants at the Heathrow Arrival zone.
Terminal 2 is mainly intended for domestic and European flights but also some long-haul destinations. Furthermore, our online board shows the arrivals of every airline that Terminal 2 operates so do not forget to check the arrival time of your plane.
Many airline companies service the Heathrow T2 arrivals. Among them, there are companies from the UK, for example, Aer Lingus.
Passengers may come from Germany, using such airline companies as Eurowings or Lufthansa or others. Arriving from Poland passenger can use LOT Airline. England is not an exception and offers its company as Flybe. It should be noted that T2 serves 29 airlines so you can arrive there from many places.
Toilet and shower services available in Terminal 2
Depending on the length of the journey, some passengers may want to use the service of a bathroom and definitely a toilet. The facilities can be found in the following locations in Terminal 2:
In case you need a shower – look for it at Plaza Premium Lounge which waits for its guests in the Public area as well.
Terminal 2 Cash Machines and Cash Facilities
The passengers arrive at Heathrow from various countries and places, so they often need the service of currency exchange before going to London and further. The passengers who need cash may want to use the ATM services as well. Fortunately, such facilities are provided in Terminal 2 and you may find some of them in the following zones: at Level 1 – in the center of baggage ways at Arrivals and behind the 8th luggage carousel, in the public area of Arrivals, at the same 1st Level, out of the leftmost door, and in front of the rightmost one when you enter from outside.
Terminal 3 is mainly used for long-haul services to the United States, Asia, and South America, however, the flights to Europe are also realized to and from here.
Passengers from Spain, using Vueling airline company, arrive in Terminal 3 at Heathrow. Also, American Airlines, Delta Airlines or US Airways from the USA arrive here. Besides, passengers of British Airways may arrive in T3 here also. This Terminal operates many airlines. That's why passengers should keep an eye on our online board in order not to miss their flight.
Showers and toilets provided throughout Terminal 3
After the arrival, the passengers can use the toilets and shower rooms, situated in the Third Terminal. Toilets are situated at Heathrow T3 Arrivals. Here you can use the facilities for baby care and for disabled passengers as well. It's not a problem to find the toilet rooms as they are located in baggage reclaim and public areas. To get a shower go to the No. 1 Traveler Lounge, which is in the passenger area.
Location of cash dispensers in Terminal 3
In case you've come from another country and don't have any pounds with you or simply need to get some cash, exchange and ATM services are offered for your convenience right at Heathrow, use them without any problems and delays in the LHR T3 arrivals concourse. The services are provided in passenger and public area on the Ground floor: by the First Carousel, not far from the toilets, with the Bureaux de Change, and near Baggage Reclaim hall.
LHR Terminal 4 is known to service the long-haul destinations, such as Africa, America, Australia, Asia, Canada, and Europe.
The major companies operating here are Aeroflot from Russia, for example, Air France, Alitalia from Italy or Delta Air Lines that belongs to the USA and so on.
The online board that can be found on our site, helps every passenger to keep themselves informed of the arrivals at Heathrow T4. Don't miss your flight with our online board.
Location of toilets and showers in Terminal at Heathrow
All the passengers, who have arrived at London LHR T4 Arrivals Zone can use lavatories and shower rooms on the Ground Floor and Mezzanine.
The toilets are equipped for disabled passengers as well and can be found in the Zone of Arrivals.
There are also some rooms on either end of the Baggage Reclaim area. All the toilets offer baby care conveniences to the parents traveling with their infants. The showers are located at Plaza Premium Lounge, look for it in the public area.
Where are cash machines in T4 at Heathrow?
You 'll face no problems with getting cash or currency exchange in Terminal 4, The ATM machines can easily be found in passenger and public areas at Arrivals. They accept the majority of credit cards. Look for the ATMs near the lavatories, at Carousel 1, near the Costa Coffee (public area), and near the Tourist Information.
The 5th Terminal is used at Heathrow exclusively by British Airways and Iberia. British Airways mainly provide the distant fights, Iberia flies to Madrid and Iberia Express serves Tenerife North and Gran Canaria. Terminal 5 is not an exception and online board lets every passenger track the arrivals here.
The passengers arriving at LHR Terminal 5 can visit lavatories and shower rooms here.
Toilets and showers to use in T5
There are 4 blocks of toilets in the arrival concourse of the terminal, two more lavatories can be found in baggage reclaim zone before security, and two more after security. The shower is offered to the tourists in Aspire Lounge & Spa, look for it in the departure area.
Where Terminal 5 offers cash facilities
Traveling, you may face the need of currency exchange or getting some cash right in the airport, you'll see no problems with it at Terminal 5. Several ATM machines are placed in LHR T5 arrivals zone. Some can be found in the passenger area on the Ground Floor, near luggage carousels, and some in public area on the same floor.
Heathrow British Airways arrivals
British Airways was already the largest airline in the UK when it merged with Iberia a Spanish airline. They created one of the biggest airline groups in the world in 2011.
The new company got the name of International Airlines Group, however, the brands BA and Iberia continue to operate. British Airways realize their flights from Terminals 3 and 5. To find out the details of your flight arrival terminal use our online board. It will provide you with the accurate information which BA arrivals Heathrow you require. The members of BA staff are eager to help you, in case you have any difficulties. The Customer Service desks of British Airways are located both in Terminals 3 and 5. In the first case one can find them after Flight Connections Security and in LHR Terminal 5 they are before Security in the area of Flight Connections.
Frequently Asked Questions
What airlines fly from Terminal 4 Heathrow?
HR Terminal 4 serves the long-haul flights. The major companies operating here are:
Aeromexico, Aeroflot, Air Algerie, Air Astana, Air France, Air India, Air Malta, Air Mauritius, Air Serbia, Alitalia, Arik Air, Azerbaijan Airlines, Biman Bangladesh Airlines, Bulgaria Air, China Eastern Airlines, China Southern, Kuwait Airways, Delta Air Lines, Etihad Airways, Gulf Air, Jet Airways, Kenya Airways, KLM Royal Dutch Airlines, Korean Air, Libyan Arab Airlines, Malaysia Airlines System, Oman Air, Philippine Airlines, Qatar Airways, Royal Air Maroc, Royal Brunei Airlines, Saudia, Tarom, Transaero, Tunisair, Uzbekistan Airways.
Which airlines fly out of Heathrow Terminal 3?
Terminal 3 is mainly used for long-haul services to the United States, Asia, and South America, however, the flights to Europe are also realized to and from here.
Heathrow terminal 3 airlines:
American Airlines, British Airways, Cathay Pacific, Delta Airlines, Emirates, Finnair, Iran Air, Japan Airlines, MEA Middle East Airlines, Oman Air, Pakistan International Airlines, Qantas, Royal Jordanian, Sri Lankan Airlines, Turkmenistan Airlines, US Airways, Virgin Atlantic, Vueling.
What terminal is Delta arrivals at Heathrow?
Delta operates all flights out of Terminal 3 at London Heathrow.
Which Heathrow Terminal for British Airways arrivals?
British Airways operates from London Heathrow Terminal 3 and Terminal 5.