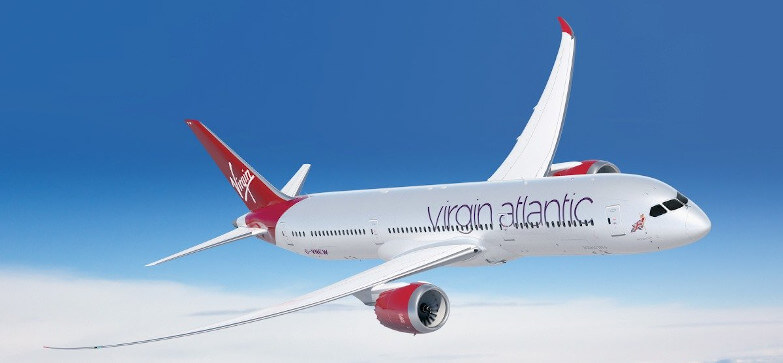 Virgin Atlantic offers distinct seat maps for each of its aircraft models, recognizing the significance of Virgin Atlantic seat selection in ensuring a comfortable journey. To facilitate passenger convenience, the airline has curated a comprehensive collection of seat maps on its website featuring popular aircraft models. At the beginning of the page, a list of these seat maps is conveniently provided, allowing passengers to easily access the desired information.
Each Virgin Atlantic seat map is meticulously designed to provide an accurate representation of the cabin layout for the specific aircraft. The maps illustrate the seating arrangements in various classes, including Upper Class, Premium Economy, and Economy. Passengers can also identify important features such as restrooms, galleys, and emergency exits, enabling them to assess seat proximity to these facilities during the selection process.
Additionally, any Virgin seat map offers valuable insights into specific seats. Passengers can identify seats with extra legroom, such as bulkhead or exit row seats, ensuring enhanced comfort on long-haul flights. Furthermore, the maps may indicate seats with limited recline or those located near lavatories, allowing passengers to make informed decisions based on their preferences and requirements.
Virgin Atlantic's provision of detailed seat maps reflects its commitment to customer satisfaction. By offering these resources, passengers can confidently select seats that align with their preferences, such as aisle or window seats, and ensure travel companions can sit together. This transparency enhances the overall travel experience and empowers passengers to make informed choices.
How to Choose Virgin Atlantic Seats
When booking a flight with Virgin Atlantic, customers can access the Virgin seating plan for their specific flight through the "booking confirmation" page or the My Booking section. If a seat map button is displayed on either of these pages, clicking it will launch the seat map for that particular flight. The seat map will indicate the availability of seats for selection.
If a customer has already made a seat request, their current Virgin seat selection (if applicable) will be displayed in the box next to their name on the seat map. This seat will also be visually represented on the seat map itself by a person in the corresponding seat. To change their seat, customers can either click on an available seat shown on the map or enter an available seat number into the box next to their name. After making the desired changes, customers can proceed by clicking the "Continue" button, which will redirect them to enter their payment details (if necessary) and eventually lead them to a confirmation page.
For customers seeking a broader understanding of aircraft configurations, Virgin Atlantic offers a clickable option to view the layout of all their aircraft. By clicking on the provided link, customers can access detailed information regarding the Virgin plane seating arrangements of different aircraft models.
When Will Passengers be Able to Choose Their Virgin Seats?
Passengers have the option to choose their seats starting from 336 days before their travel when making a booking. They can assign seats through the "Manage your Flights" feature, which remains available up to 24 hours before the scheduled departure time. While Virgin Atlantic Economy Light customers have the opportunity to pay and select their seats up to 336 days in advance, Economy Classic and Economy Delight customers can choose their seats without any additional charge.
What is the Cost of an Advanced Seat Assignment?
For passengers who are Virgin Atlantic Flying Club Gold members, Upper Class Virgin Atlantic or Premium customers, or flying in Economy Classic or Economy Delight, advanced seat allocation is provided at no extra cost. However, if passengers are Economy Light customers, there is a fee of £15 per person per flight to choose a seat.
It's important to note that we are currently conducting trials to reduce the standard advanced seat allocation price on specific routes. The current price for advanced seat allocation is £30.
Virgin Airlines Cabins
The airline offers a variety of Virgin Atlantic seat classes to accommodate a wide range of passengers. With Economy, Premium, and Upper Class options, Virgin Atlantic ensures that travellers can find the perfect seat class to suit their needs and preferences.
Economy Light
Virgin Atlantic's Economy Light fare option on the Virgin Atlantic seat map offers a cost-effective travel experience. Passengers in this class have seats assigned at check-in, with a seat pitch of up to 31 inches. They are allowed one piece of hand luggage weighing up to 10kg, but checked baggage is not included. Economy Light passengers can still enjoy complimentary in-flight meals, beverages, and entertainment. This fare class provides an affordable choice for travellers who prioritize budget-conscious options and are comfortable with limited baggage allowances.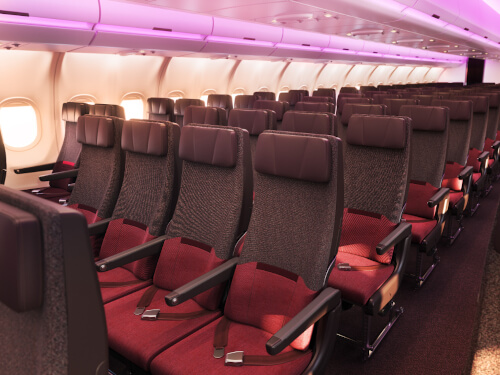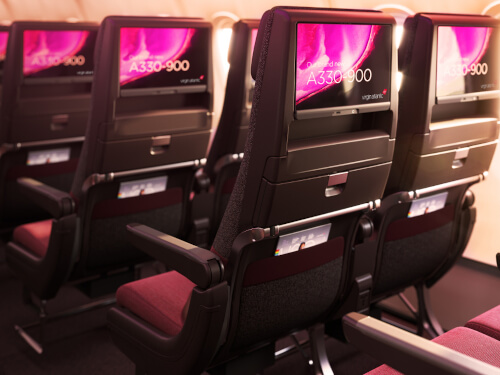 Economy Classic
Virgin Atlantic's Economy Classic provides an upgraded travel experience. Passengers enjoy a seat pitch of up to 31 inches and have the flexibility to select a standard seat at any time. They are allowed one piece of hand luggage and one checked bag weighing up to 23kg. Economy Classic fares can be upgraded using Virgin Points. Passengers also have access to complimentary in-flight meals, beverages, and entertainment. This fare class offers a balance between affordability and enhanced comfort for travellers.
Economy Delight
Economy Delight is Virgin Atlantic Premium Economy seats that offer an enhanced travel experience. Virgin Atlantic's Premium Economy seats provide a step up in comfort and amenities for passengers seeking a more luxurious travel experience. With wider seats and increased legroom, passengers can relax and stretch out during their flight.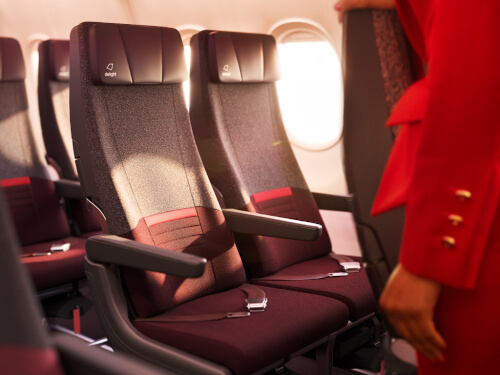 Passengers enjoy a seat pitch of up to 34 inches and can select their preferred seat at any time. They are allowed one piece of hand luggage and one checked bag weighing up to 23kg. Economy Delight fares are upgradeable using Virgin Points and include an extra legroom seat, premium check-in, and priority boarding. Passengers also have access to complimentary meals, beverages, and entertainment. Economy Delight provides a premium experience within the Economy Class cabin, combining added comfort and convenience for travellers.
Passengers in Virgin Premium Economy seats can enjoy a satisfying dining experience with a selection of delicious hot meals served with a starter and accompanied by choice of wine, spirits, beer, or soft drinks. Dessert is also included to complete the meal.
For entertainment, there is a wide range of options available, including over 300 hours of TV shows and films. Additionally, passengers have access to in-seat power for their devices.
Passengers can also opt for Wi-Fi connectivity during the flight, with packages available starting from £2.99, and choose the most desired seat on the Virgin Atlantic Premium Economy seating plan.
Premium
Premium seats Virgin offer a luxurious and elevated travel experience for passengers seeking the utmost comfort and style. With spacious seating and enhanced amenities, Premium passengers can indulge in a premium journey from start to finish.
Here are the key features of the Virgin Atlantic Premium Class cabin: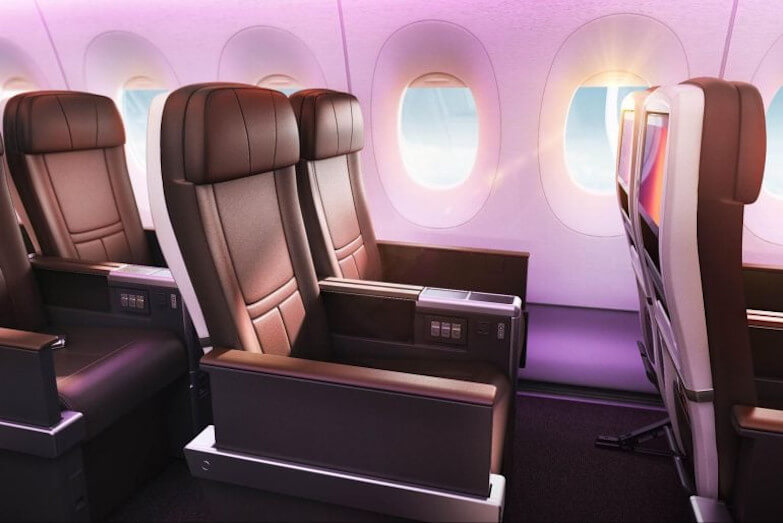 Seating: Passengers in the Premium cabin enjoy a generous seat pitch of up to 38 inches, providing ample legroom for a more spacious and comfortable journey. The cabin features extra-large leather Virgin Atlantic Premium seats, ensuring a premium seating experience. Passengers have the advantage of selecting their preferred virgin Premium seats at any time, allowing them to secure their desired seating arrangements.
Included Extras: Premium fares are upgradeable using Virgin Points, providing passengers with the opportunity to further enhance their travel experience or enjoy additional amenities. Passengers in the Premium Virgin Atlantic Cabin also benefit from extra legroom seats, premium check-in services, and priority boarding, allowing for a seamless and expedited airport experience.
Passengers on Virgin Atlantic flights can enjoy hours of entertainment with over 300 TV shows and films available. In-seat power is provided for devices, and Wi-Fi options are available starting from £2.99. Stay entertained or connected throughout the journey.
Upper Class
Virgin Atlantic Upper Class offers a luxurious travel experience with fully flat beds and extra-large leather seats. Passengers can select their Virgin Upper Class seats at any time. The baggage allowance includes two pieces of hand luggage and two checked bags. Included extras range from extra legroom seats to Upper Class check-in, fast-track security, priority boarding, and exclusive access to the Clubhouse lounge. Upgrade options with Virgin Points are available. Upper Class delivers the ultimate in comfort, style, and convenience.
In the front of the Upper Class cabin, passengers can discover the Retreat Suites, which offer spacious and private accommodations. Each suite features an ottoman that can be used as an additional seat, allowing up to four people to enjoy a cosy meal together or watch a film on the 27″ touchscreen. The Retreat Suites provide a comfortable and intimate social space for passengers to relax and enjoy their journey.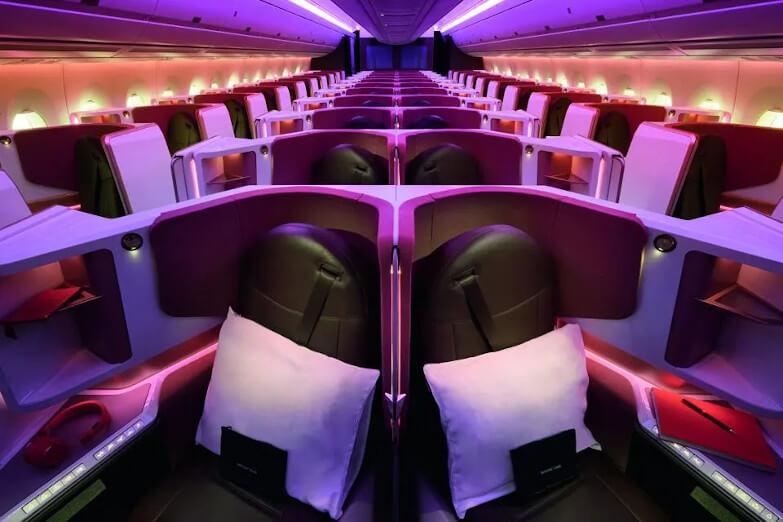 Types of Virgin Airways Seats
Extra legroom seats
Passengers looking for additional legroom in Economy can opt for Economy Delight. This fare class on Virgin Atlantic Airlines offers not only extra legroom but also priority check-in and boarding, ensuring a smoother and more convenient travel experience.
For those who have already booked Economy Light or Economy Classic, there's no need to worry. Upgrading to Economy Delight is possible through the My Booking feature, allowing passengers to enhance their travel experience and enjoy the benefits of extra legroom and priority services.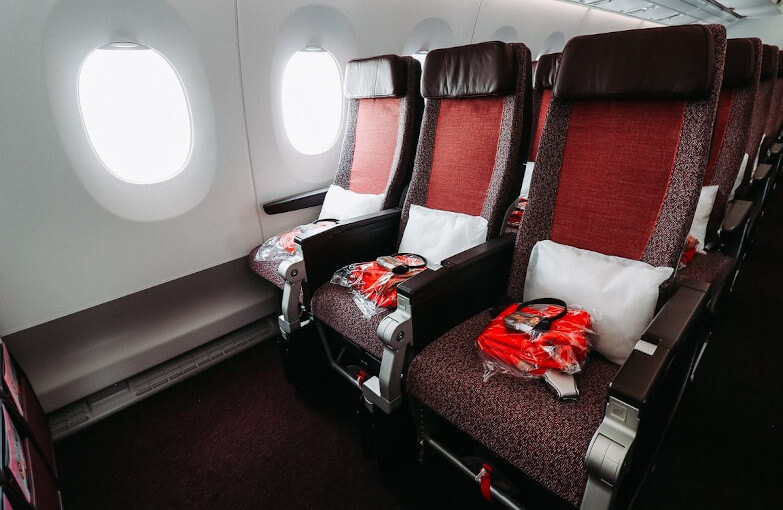 Preferred Seats
To secure a seat towards the front of Economy or Virgin Atlantic Premium, passengers have the option to choose preferred seats for an additional fee. This ensures a desired seating location during the flight.
For Flying Club Gold, Delta Diamond, and Delta Platinum members, the selection of preferred seats is complimentary. Members can enjoy this benefit by ensuring their membership number is added to their booking, allowing them to select preferred seats free of charge at any time.
Exit row seats
Passengers who choose exit row seats will enjoy ample legroom. However, it's important to note that in the event of an emergency, these passengers will be responsible for opening the exit door without assistance.
Therefore, exit row seats are suitable only for physically fit and able-bodied passengers aged 16 or older on the day of travel. It's important to understand that exit row seats are not suitable for passengers travelling with infants.
Unavailable seats
Seats on Virgin Atlantic Airways located in the front row behind each cabin divider are reserved for passengers travelling with infants who may require cots, as well as individuals with special requirements.
When booking your flight or accessing the My Booking feature, you have the option to select available seats from the seat map. However, if you are travelling with a baby or require special assistance, additional information on Virgin Atlantic seat selection and support can be found below to cater to your specific needs.