Aer Lingus A320 Seating Plan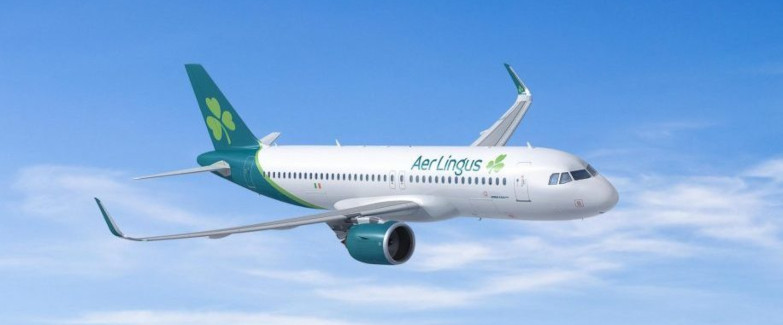 The Aer Lingus A320 operates with a single-class configuration featuring 174 Economy Class seats.
Customers who choose a Flex Fare will be eligible for an Exit or Choice seat as a part of their purchase, based on seat availability.
For passengers who do not select a Flex Fare, there will be an additional charge for Exit Row seats, which provide extra legroom for enhanced in-flight comfort and grant priority boarding. Furthermore, there is a premium for Choice seats, which provide customers with earlier boarding as well as prior access to overhead storage bins.
Aer Lingus provides a diverse range of food options for purchase, while beverage service is complimentary. On Aer Lingus A320 flights, Aer Lingus offers the Sky Cafe service, which includes hot beverages, muffins, biscuits, smoothies, soft drinks, spirits, beer, and various other items.
It's worth noting that there is another aircraft version — Aer Lingus A320 neo, which stands for "New Engine Option." It represents a more advanced and fuel-efficient evolution of the A320 family. While many of the features mentioned apply to both the A320 and A320neo, there are some distinctions specific to the A320neo:

Seating details
| | | | |
| --- | --- | --- | --- |
| Class | Pitch | Width | Seats |
| Economy | 31-32 | 17 | 14 |
Economy
The Economy Class cabin features standard Airbus A320 seating Aer Lingus in a 3-3 layout with a seat width of 17 inches. While most seats are standard Economy seats, some come with unique considerations.
Seats 1ACDF have limited legroom, and seats 1B and 1E in the middle are blocked for added personal space. They are also close to the galley and restroom, which may be inconvenient. It's worth noting that the armrests in these seats have fixed tray tables, which cannot be adjusted, and there is no floor storage available, which means passengers might have limited space for their belongings.
Seats 11ABCDEF are situated near the emergency exit row; they offer a bit more legroom, which can be advantageous for passengers who value stretching their legs during the flight. However, due to safety regulations, seats in this area generally have limited recline to ensure a swift exit in case of an emergency.
Seats 12ABCDEF are unique on the Airbus Industrie A320 Aer Lingus as they are located near both the front and rear exit rows. While this positioning can result in some temperature variations during the flight, these seats do provide more legroom compared to standard seats. However, they come with the trade-off of restricted recline. Similar to seats 1ACDF, the tray tables are fixed in the armrests, and there is no floor storage available.
Seats 13ABCDEF are considered some of the best seats in Economy Class; these seats are located near the exit rows and have plenty of space. This extra space can make the flight more comfortable, particularly for passengers who appreciate having room to stretch their legs during long journeys.
Moving towards the rear of the Aerosoft A320 Aer Lingus plane, seats 28CD are situated close to the lavatories.
The least favourable seats on the Aer Lingus A320 are in the very last row, seats 29ABCDEF. They not only have limited recline, which can affect passenger comfort during the flight, but are also situated even closer to the lavatories. This proximity to the restrooms can result in increased passenger activity in the area, potentially making it less desirable for those seeking a quieter and more relaxed journey.