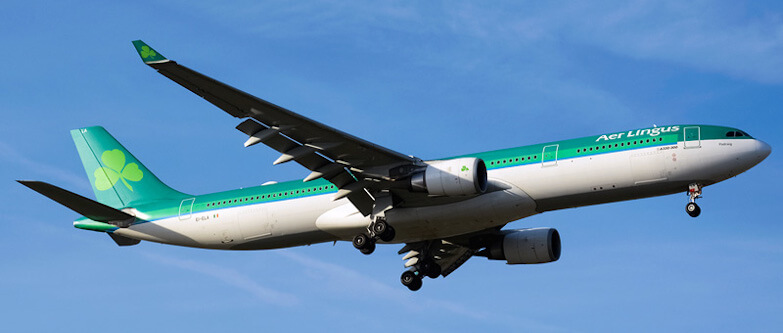 Overview of Aer Lingus A330
The Aer Lingus A330 is used for long flights with its spacious layout and modern design. Whether travelling for work or pleasure, you'll find a range of luxuries and facilities to enhance your trip.
Each seat has a setup for occupants to enjoy films and songs. They also get charging outlets to keep their electronic devices on and connected. Stay productive or relax with the peace of mind that your devices won't run out of battery.
The Airbus A330-300 Aer Lingus facilities are designed to enhance your overall travel experience. You get a cabin with ample legroom, allowing you to relax during your flight. The seats are comfortable, ensuring a pleasant journey.
The A330 seat plan also features a well-appointed galley, where you can enjoy refreshments and meals on your trip. The onboard crew is dedicated to providing superb assistance and will help you throughout the journey. You can expect meals, snacks, and beverages to be served, ensuring you stay refreshed.
Aer Lingus A330 Seat Map (A330-300)

Seating details
| | | | |
| --- | --- | --- | --- |
| Class | Pitch | Width | Seats |
| Business | 58 | 21 | 30 |
| Economy | 31-32 | 17 | 287 |
Business
In the Aer Lingus A330 Business Class, seats 1 AG are what you would expect from an upgrade to Economy Class. However, they are beside the washroom and kitchen area, which may cause discomfort. As a bulkhead seat next to the galley, seat 1 D's placement in the aisle may be problematic. On the flip side, seats 7 AG have a large terminal for storage and cover from activities in the aisle.
Based on the seat map, 7D and 7K are by the lavatory, with the latter having aisle alignment concerns.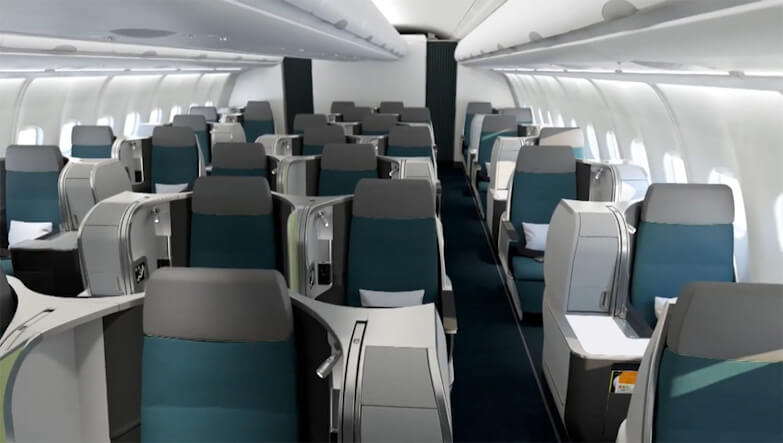 This cabin in the Aer Lingus A330-300 holds seats 8 ACHK, which have a little more room for occupants to place their legs, but they are next to the washroom and galley. With the serving table and IFE monitor included, these seats feature fixed armrests, which somewhat narrows their width. Also, the legroom at seats 9 DEFG, which are near the bulkhead, may be restricted. They are designated as bassinet-included seats for those who need them. Seats 13 AK and 26 AK on the seating chart lack a window in their respective rows. 26 CH and 27 DG are by the toilets.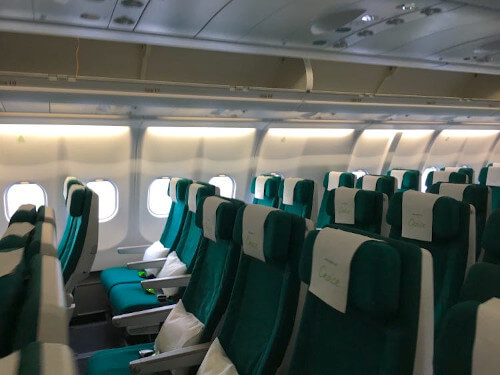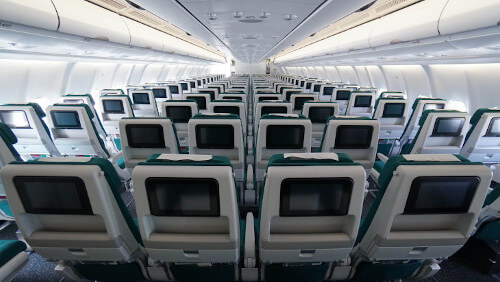 Seats 30 ACHK offer more legroom because they are behind the exits. Additionally, they have monitors and rigid armrests coupled with trays. 30 DEFG, situated by the bulkhead, may have smaller legroom, which is made worse because they are near one of the Airbus A330 Aer Lingus galleys.
They are also designated as bassinet locations. Seats 41 DG are susceptible to being bumped into by other passengers. Seats 42 DEF may have slightly limited legroom due to their aisle alignments.
Seats 45 ACHK and 46 DEF are in the last row of the Aer Lingus Airbus A330 Economy Class, close to the restroom.