Boeing 777-300ER Emirates Seat Map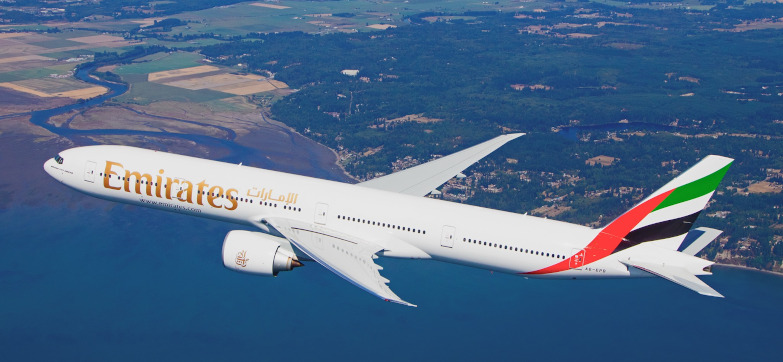 A Brief Overview of Emirates 777
The Boeing 777-300ER Emirates is an impressive aircraft designed to offer a comfortable and enjoyable flying experience. It is part of the renowned Emirates fleet and is widely recognised for its spaciousness and advanced features. This long-range twin-aisle aeroplane is equipped with state-of-the-art technology and luxurious amenities to cater to the needs of passengers during their journey.
As you step onboard the Boeing 777 Emirates, you'll find spacious seats with ample legroom, ensuring a relaxing journey. The cabin is tastefully designed and offers a peaceful ambience, with dimmable windows allowing you to control the natural light that enters.
The Boeing 777 300ER Emirates seating provides a range of amenities to keep passengers occupied and engaged during their journey. There is a private media system with a large high-resolution touchscreen monitor in each seat. This system provides access to an extensive library of films, TV shows, music, and games. Passengers have access to hours of entertainment that is personalised for them.
The Emirates Boeing 777-300ER has onboard Wi-Fi to make sure travellers keep in touch during their flight. Travellers may take advantage of this helpful function when travelling at high altitudes to browse the internet, stay in touch with friends and family, or even finish off some work. During their travels, customers may enjoy smooth communication and take part in a variety of online activities thanks to high-speed internet access.
Emirates understands the importance of culinary excellence, so they go the extra mile to provide an exceptional dining experience onboard the Boeing 777-300ER. Passengers can delight their taste buds with a wide array of menu options meticulously prepared by world-class chefs.
For those seeking relaxation and rejuvenation during their journey, the Emirates Boeing 777 has spacious lavatories where passengers can freshen up and attend to their needs.
Emirates 777-300ER: Three Class Layout 1

Seating details
| | | | |
| --- | --- | --- | --- |
| Class | Pitch | Width | Seats |
| First Class | 69 | 20.5 | 8 |
| Business | 60 | 20.5 | 42 |
| Economy | 32 | 17 | 304 |
First Class
Luxurious private rooms with an electronic movable door, private minibar, programmable soft lighting, and a dressing desk with a mirror and closet are assigned to the Emirates 777 First Class seats 1 and 2 AEFK. In addition to those features, a soft mattress is fused to these seats to make them completely flat beds when needed.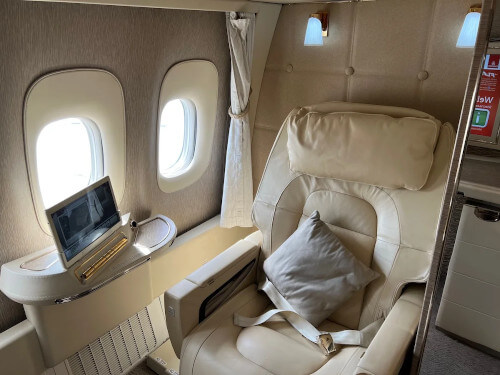 Business
Seats 7 AK on the Emirates Business Class 777 have an improperly aligned window and may be uncomfortable because they are close to the restrooms and galley.
Business Class seats 7 BDEFK and 8 ABDEFJK are similarly near to the restrooms and kitchen, which might occasionally cause a disturbance. Seats 11 ABDEFJK are next to the busier Economy cabin, which might cause noise disruptions.
Seats 21 ABCDEFGHJK are next to the lavatory and have minimal recline, which might be inconvenient. Exit row seats with more legroom are located at seats 23 DEFG. The width of the seat is considerably constrained since the tray table is incorporated into the armrest. Storage cannot be used during takeoff or landing. Because there are places for bassinets here, passengers with young children frequently sit in these seats.
Seats 24 Seats on the exit row with extra legroom are ABCHJK. You cannot move the rigid armrests because trays are inserted in them, which also drastically narrows the seat.
Seats 36 ABCDEFGHJK are positioned close to the lavatory and galley, making them susceptible to occasional passenger and crew movement inconvenience.
Seats 37 AK, according to the Boeing 777-300ER Emirates seat map, are exit row seats with more flexibility in terms of legroom but no windows. The armrest contains the tray table, making the seat more cramped. There is no floor storage for takeoff or landing. Due to the closeness of the galley and facilities, minor delays might happen.
Seats 37 BCHJ are on the exit row and offer more legroom. Because the tray table is integrated into the armrest, the seat is narrower and cannot be moved. No floor storage is available during takeoff or landing.
The exit row seats with more room for legs are seats 38 DEFG. On the armrest, there is a tray, which narrows the seat. In flight and on descending, there is no floor storage. Couples with young children sometimes sit in this row since there is space for a cradle.
The workers and passengers in the adjacent seats occasionally bump into seat 45 CH. The seating chart indicates that seats 49 ABDEFG and 50JK, which are in the final row, can only partially lean back and are near the restrooms and galley, which can be a minor annoyance.
Emirates Boeing 777-300ER: Three Class Layout 2

Seating details
| | | | |
| --- | --- | --- | --- |
| Class | Pitch | Width | Seats |
| First Class | 69 | 20.5 | 8 |
| Business | 60 | 20.5 | 42 |
| Economy | 32 | 17 | 310 |
First
According to the Emirates 777 seat map, the second-row seats 2E and 2F offer a relaxing and opulent experience. Because cradle spots are available in this row, parents flying with young children frequently go there. These seats provide plenty of room and comfort for a comfortable ride.
Business
In the Emirates 777 Business Class section, seats 7 BDFJ are next to the rear galleys. While the galley is easily accessible from these chairs, there is a chance that the close bustle will occasionally disturb the occupants.
If you want to go for the Emirates Boeing 777-300ER Business Class best seats, keep in mind that 8 B through J are close to the bulkhead, which means they provide more room for your legs. They also have bassinets for increased convenience, making them popular choices for parents flying with young children.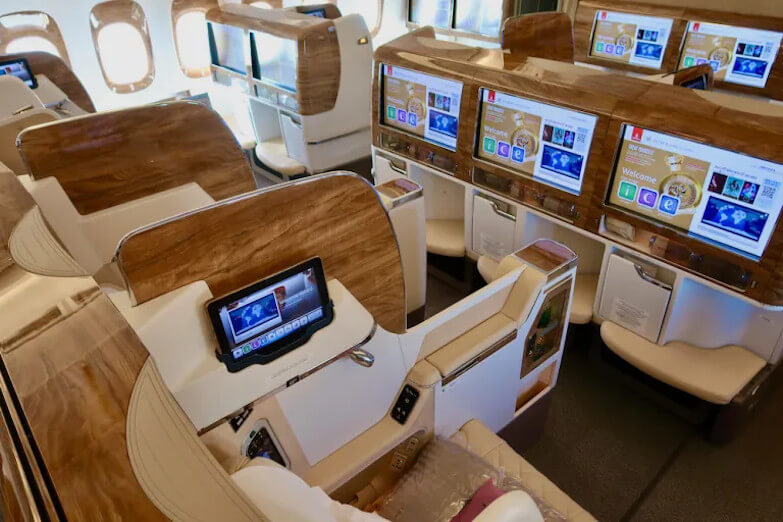 The poor swivel and closeness to the restrooms experienced by passengers in the 21st-row seats on the Emirates 777 Economy class might occasionally be a nuisance.
If you are looking for the Exit row seats with more legroom, check 23 DEFG and 24 ABCHJK. But there can be some disruption if you're near the restrooms. Since they offer dedicated bassinet spots, passengers who are travelling with children frequently like these seats.
There may be little reclining in seats 36 ABCDEFGHJK. Due to being so close to the galley and restrooms, these seats may occasionally be disturbed by people walking about.
Due to the closeness of the cabin structures, travellers in seats 38 DEFG have limited legroom. Because they have designated bassinet places, passengers who are travelling with children frequently choose these seats. Economy Class seat 45 CH protrudes into the aisle, making it possible for other passengers or service carts to occasionally bump against them.
Expect marginally limited legroom from seats 46 ABJK since they are slightly out of alignment with the seats in front of them according to the seat plan. Due to the fact that they are among the few paired seats in Economy Class, these seats are frequently chosen by passengers travelling with a partner.
The final row holds seats 50 A all the way through K. According to the Emirates 777-300ER seat map, passengers in these particular positions may not get to lay back as much as others. Besides, being near the cooking area and restrooms could present slight complexities.
Emirates Boeing 777-300ER Seat Map: Two Class Layout

Seating details
| | | | |
| --- | --- | --- | --- |
| Class | Pitch | Width | Seats |
| Business | 60 | 20.5 | 42 |
| Economy | 33-34 | 17 | 385 |
Business
The first and sixth rows in the Emirates Boeing 777-300ER Business Class contain Bulkhead seats, offering flyers extra legroom. However, being near the toilets and kitchen may be bothersome due to increased passenger activity. On the good side, there are baby beds to make flying with kids more convenient.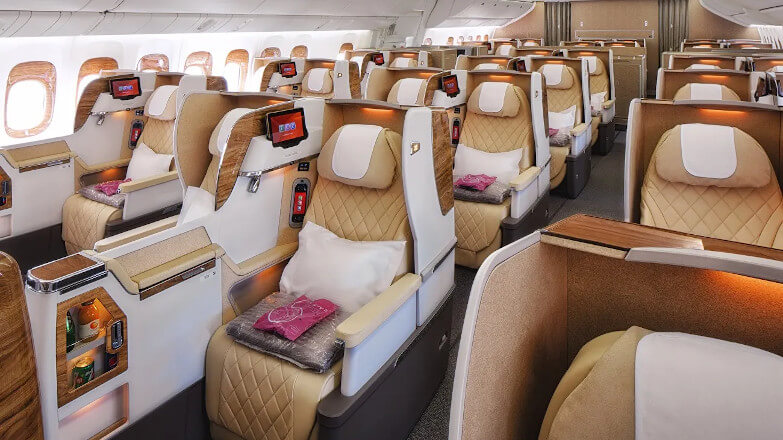 Seats 8 ABCDEFGHJK are Boeing 777-300ER Emirates Economy bulkhead seats, providing passengers extra legroom. These seats are popular among travellers with infants as there are bassinets available in this row.
Seats 15 AK are situated in a location where a window is absent. While passengers seated here won't have a window view, they can still enjoy a comfortable journey. Seats 21 ABCDEFGHJK may have limited recline.
Passengers requiring more legroom can sit at 23 AK, which are in the exit row. But this position also means they can become chilly throughout the trip. Additionally, they are windowless. Some reclining may be available in seats 35 ABCHJK. Seats 37 ABCHJK are in the exit row and give customers more legroom. However, because of increasing activity, their proximity to the galleys and restrooms could occasionally be a problem.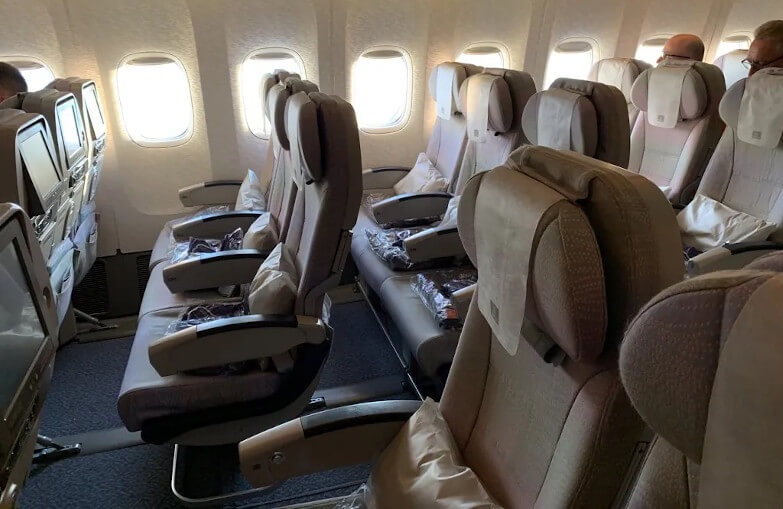 Bulkhead seats, like seats 37 D, provide customers with more legroom. Also, seats 45 CH stick out into the aisle. This means that other people or service carts may periodically jolt these seats.
The television and footrests are somewhat off-centre because of the modest misalignment of seats 46 ABJK with the row in front. This alignment issue can be annoying, especially on lengthy trips. Due to the rarity of paired seats, people are flying with a companion like seats 47 AK.
The limited recline and sometimes mild annoyance of Seats 48 AB's proximity to the restrooms. Seats 48 DG are next to the restrooms, which might occasionally cause problems. There may be some restricted reclining in seats 50 JK and 49 DEFG.