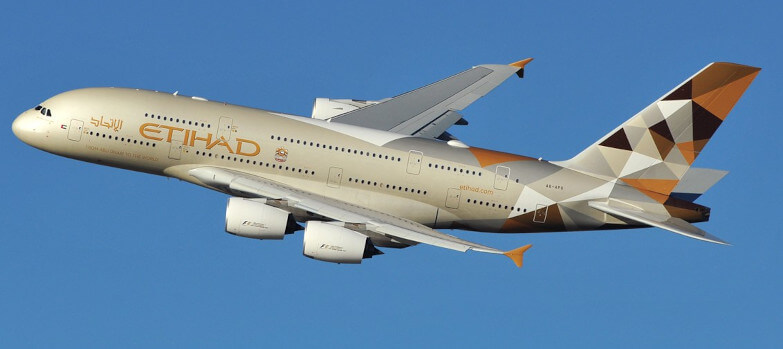 The Airbus A380-800 of Etihad Airways has four classes of service, promising an unforgettable experience for all passengers on board.
'The Residence,' an exclusive suite on the Etihad A380, caters to only two fortunate passengers, offering the utmost in sophistication and convenience. With its stylish living room, private bedroom, and ensuite bathroom, 'The Residence' redefines luxury at 30,000 feet.
For those seeking the pinnacle of elegance, the First Class First Apartment Suites await. Embrace a private sanctuary that boasts new features, including a chilled mini-bar, a luxurious vanity unit, access to an onboard shower, and sumptuous 5-star cuisine crafted by world-renowned chefs.
The Etihad A380 Business Class welcomes you to a peaceful and productive realm. Each seat features a privacy shell and transforms into a lavish full flat bed measuring an impressive 6 feet 1 inch. With direct aisle access from every seat, you can move freely throughout the cabin. Entertainment and connectivity options abound, thanks to the 15-inch LCD screen, noise-canceling headsets, in-seat power sockets, audio/ethernet connectivity, and even an in-built massage function, all complemented by the finest comforters and pillows.
Even in Economy Class of the Etihad A380, the comfort and entertainment of our passengers remain paramount. Enjoy a generous 31-inch seat pitch in cozy cradle-style seats that smoothly slide forward and recline. The well-designed mood lighting adapts seamlessly to the time of day, creating a soothing ambiance throughout the flight. Delight in a diverse selection of entertainment programs on the 10.4-inch LCD screen provided at each seat.
Etihad Airways A380 Layout (A380-800)


Seating details
| | | | |
| --- | --- | --- | --- |
| Class | Pitch | Width | Seats |
| First Class | 80/80 | 29.5 | 9 |
| Business | 73/73 | 20 | 70 |
| Economy | 31 | 17.5 | 415 |
First Class
Etihad Airways operates an A380 aircraft featuring an exquisite First Class cabin, located on the Upper Deck of the aircraft. The First Class seats offer a generous pitch and bed length of 80 inches, providing ample space for a comfortable rest during the flight. Additionally, each seat boasts a width of 29.5 inches, ensuring a pleasant and cozy journey. The First Class cabin comprises 9 closed suites, offering passengers an exclusive and private travel experience.
In the First Class cabin of the Etihad Airways A380, there is a unique suite called the "First Apartment," which is identified as Seat 1A. This exclusive suite offers an exceptional travel experience, featuring a spacious layout. It includes a separate large recliner-style seat for relaxing during the flight. Moreover, a luxurious six-foot ten-inch fully-flat bed is available in an enclosed compartment, allowing passengers to enjoy a restful sleep during long journeys. The First Apartment is an ideal choice for solo travelers seeking privacy and comfort. However, it's worth noting that The Residence, a premium suite offered by Etihad Airways, and the nearest toilet are in proximity to seat 1A. Despite this, the First Apartment still provides an unparalleled level of luxury and exclusivity for passengers looking to enjoy a remarkable travel experience.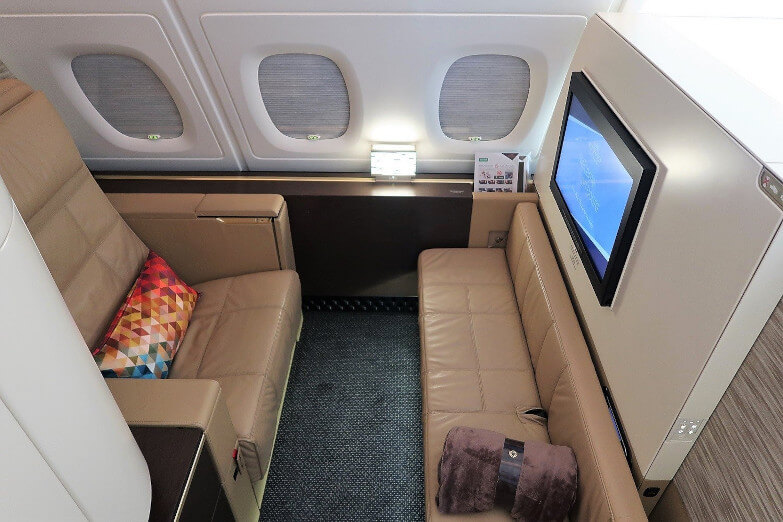 The seats in rows 2 to 5 offer a consistent and luxurious experience as well. These rows are arranged in a 2-2 configuration, with seats facing each other, creating a more intimate and social atmosphere for passengers traveling together.
Behind the last row of the Etihad A380 First Class cabin, there is an Exit row. Additionally, there is a Prayer Room available, catering to passengers who wish to observe their religious practices during the flight.
Business
The Etihad Business Class A380 cabin is also situated on the Upper Deck of the aircraft. The seating arrangement is in a 2-4-2 configuration, offering a comfortable and spacious layout for travelers. The seating configuration consists of 70 flat bed seats. These seats offer a comfortable and luxurious travel experience, with a pitch and bed length of 73 inches, allowing passengers to fully stretch out and enjoy a restful sleep during long flights. The seat width is 20 inches, providing ample space for relaxation and comfort throughout the journey.
Rows 8 and 9 in Business Class are standard seats but hold a unique advantage. They are positioned close to the in-flight lounge, which adds an element of social interaction and relaxation during the flight. Despite being standard seats, passengers in these rows enjoy additional legroom due to their proximity to the in-flight lounge area.
The last two rows have a lavatory, a Prayer Room, and an Exit located behind them. While these seats are still part of the Business Class, their proximity to these facilities and the Exit may have some impact on the overall experience.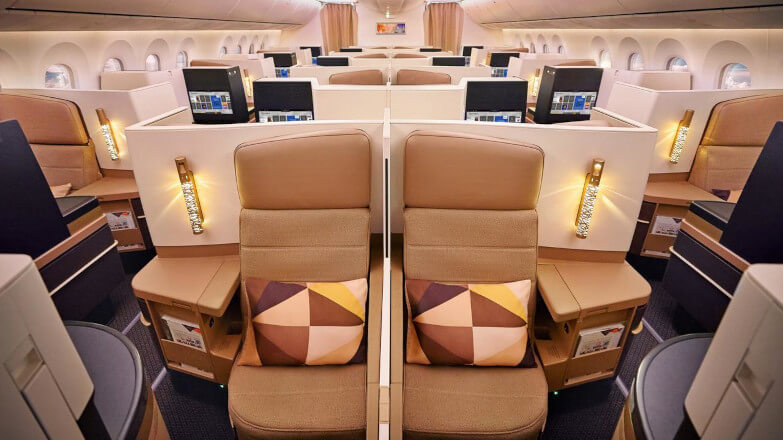 Passengers seated in the last two rows of the first section of the Airbus A380 Etihad might experience a slightly higher level of foot traffic due to other passengers accessing the lavatories and Prayer Room. Additionally, being near the Exit can have both advantages and disadvantages. On the one hand, it provides quicker access to disembark the aircraft upon landing. On the other hand, there may be more noise and movement during boarding and disembarkation.
The first row in the second section of the Business Class cabin, specifically row 19, offers extra legroom and space due to the exit row in front of it. Passengers seated in this row will have more room to stretch their legs during the flight, making it a desirable choice for many travelers. However, it's important to note that the proximity to the lavatories in front of row 19 may result in increased foot traffic and some noise during the flight.
Seats 26EF on the Etihad Airbus A380 are located at the very back of the cabin. As the last row, these seats may offer some advantages such as reduced foot traffic and a quieter environment during the flight. However, being situated in the rear of the plane means that passengers seated here will be close to the lavatories and galley area, which can result in some noise and potential disturbances.
The rest of the seats offer a standard yet comfortable experience. These seats are ideal for passengers traveling in groups of two, three, or four, depending on their preference and seat selection.
Economy
The entire Lower Deck is dedicated to the Etihad Airways Economy Class A380 cabin. The seating configuration is in a 3-3-3 arrangement. Economy Class offers 415 standard seats with a pitch of 31 inches, a width of 17.5 inches, and a limited recline for added comfort.
Seats 40B, 40C, 40H, and 40J are considered some of the best seats in this class. These seats have extra legroom and space because they are located in front of an exit row. On the other hand, seats 40A and 40K have some disadvantages. These seats are located right next to the exit door, which can lead to restricted legroom due to the door's protrusion into the seating area. Additionally, these seats are windowless.
In the Economy Class cabin of the A380 Etihad, seats 43DEFG may have restricted legroom because they are located in front of the bulkhead. Additionally, the presence of stairs in front of seats 43DEFG might be bothersome for some passengers. This can potentially disrupt the overall comfort and tranquility of the seating area.
Passengers seated in the 48th row may experience a reduced ability to recline their seats, which can impact overall comfort during the flight, especially on longer journeys. Additionally, the presence of the Prayer Room, lavatories and galley facilities behind this row might result in increased foot traffic and noise during certain times of the flight, such as meal services.
The 49th row in the Economy Class has the same facilities located in front of them, along with the additional feature of being close to the Exit.
Seats 68E and 76AK on the Airbus A380 800 Etihad can indeed be considered fortunate. This is because there is no seat directly in front of them, creating extra legroom and space for the passengers.
Seats 73CDEFGH, 74ACHK, and 75BCDEFGHJ offer extra legroom, making them favorable for passengers seeking more space and comfort during their flight. However, these seats are located close to the galleys, which are the onboard service areas where meals and beverages are prepared.
Seats 8CDGH have lavatories and a Prayer Room behind, while row 83, the last row on the Etihad A380, also has limited recline. Consider seat preferences before choosing.