Boeing 787 Etihad Seating Plan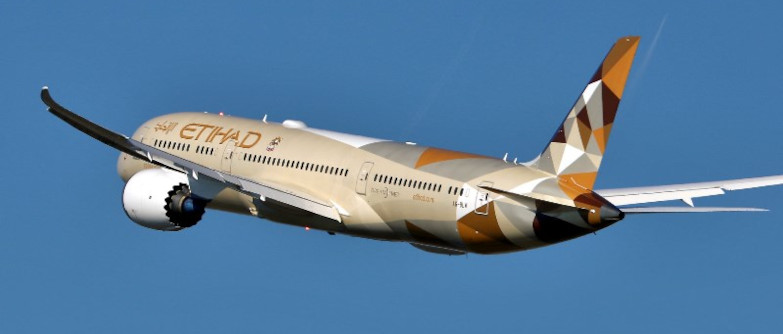 Etihad Boeing 787 Overview
Etihad Airways has two different ways they arrange their Boeing 787 Etihad aircraft for long trips. Let's take a look at these arrangements, focusing on what makes each one special and comfortable for passengers.
The first arrangement is for long journeys, with three classes of service. There are eight First Class suites that offer passengers a private and luxurious space. These suites have unique features like a mini-bar and delicious meals prepared by top-notch chefs.
Next, there are 28 Business Class seats that can be turned into flat beds for restful sleep. Alongside these, there are 195 regular Economy Class seats, which are comfortable for standard travel.
Moving on to the second arrangement of the Etihad Boeing 787, also for long flights, there are two classes of service. The Business Class area has 28 flat bed seats designed for privacy and comfort. These seats are special because they can become flat beds that are over 6 feet long, and passengers can easily get to the aisle from any seat.
The Economy Class section has seats with 31 inches of space, making it comfortable for travel. These seats can recline and move forward a bit, and the lighting in the cabin changes to match the time of day. Each Economy Class seat has a small screen with lots of entertainment choices.
Apart from seats, there are cool things to enjoy on the 787 Etihad plane. Every seat has a screen where you can watch movies and shows. You can also charge your devices, and Business Class seats have extra places to plug in USB and other cables.
You can stay connected to the internet on this plane using Wi-Fi. They offer different plans for different times and prices, so you can pick what suits you.
When it comes to food, Etihad makes sure everyone is happy. They offer meals from different parts of the world and can even make special meals for specific diets or beliefs. You just need to let them know at least 24 hours before you fly.
All in all, Etihad 787 planes have comfy seats, great entertainment, and good food choices, making your long journey a pleasant one.
Boeing 787-9 Etihad Layout 1

Seating details
| | | | |
| --- | --- | --- | --- |
| Class | Pitch | Width | Seats |
| First Class | 80″ | 26″ | 8 |
| Business | 73″ | 22″ | 28 |
| Economy | 31-32″ | 17.2″ | 195 |
First
In the First-class section of the Etihad Boeing 787-9, passengers will find a configuration of 1-2-1 close suites meticulously crafted to offer an exceptional level of privacy and comfort. These exclusive suites are arranged across two rows. The initial row is home to suites 1AK, where each suite is accompanied by a convenient toilet facility positioned directly in front.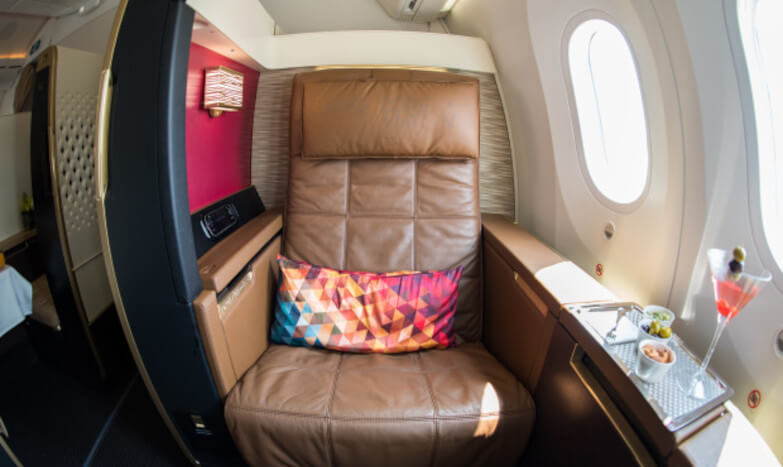 The middle pair of suites is known as 2DG. These suites in the Etihad 787 First Class are distinctively situated facing a galley area, albeit positioned at a slightly greater distance. This arrangement is due to the deliberate positioning of twin suites at the central part of the cabin, showcasing a well-thought-out approach to cabin layout and passenger experience.
Business
In the Etihad 787 Business Class, you'll find a configuration of 1-2-1 flat bed seats, thoughtfully positioned to face each other for a unique seating arrangement.
The Business Class section is divided into two distinct parts, separated by the area where you'll find galleys, lavatories, and the exit row. This division enhances the overall organization of the cabin, catering to both passenger needs and logistical convenience.
It's worth noting that the seats numbered 5CH are positioned without windows, offering a slightly different experience.
Meanwhile, seats 6AEFK on the Etihad Business Class 787 are strategically located with lavatories and a galley positioned behind them. This placement ensures convenience for both passengers and cabin crew, optimizing the use of available space.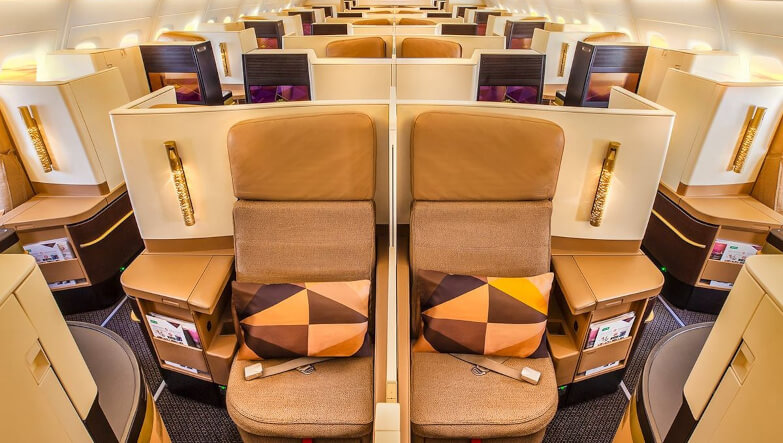 As for seats 7AEFK, they are situated in the second part of the cabin, occupying the first row in this section. This unique position means that these seats face a galley and exit doors, creating a distinctive ambience for passengers seated here.
Finally, seats numbered 11AEFK come equipped with personal bassinets located right next to each seat. This thoughtful inclusion is particularly useful for those travelling with infants, adding an extra layer of comfort and convenience for families.
Economy
In the Economy Class on the Boeing 787-9 Etihad seat plan, there's a straightforward 3-3-3 layout. This class is split into two different sections, making for a more manageable and comfortable experience.
Taking a closer look, the first row in the Economy cabin is made up of seats 15ABCDEGHJK. However, these seats might have slightly less legroom due to the presence of a bulkhead. It's worth noting that these seats don't come with floor storage during takeoff and landing. Just a short distance ahead of this row, there are three bassinets for passengers' convenience.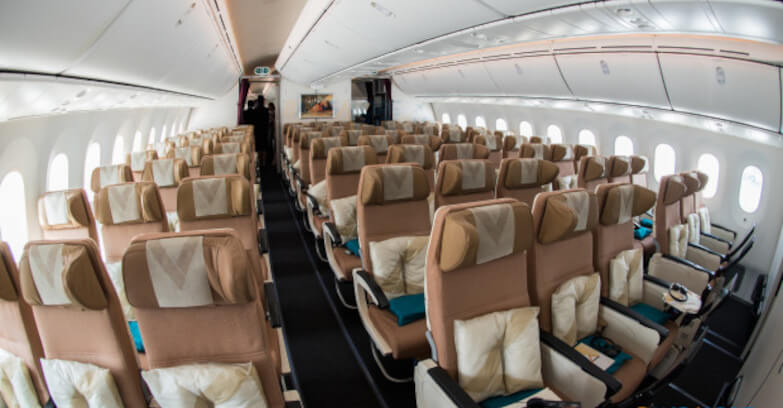 Moving along, seats 22ABCDEGHJK come with a galley and lavatories situated behind them. This placement ensures easy access to amenities for travellers.
Starting from row 24, you'll enter the second part of the Economy Class of the 787 Dreamliner Etihad. Seats 24ABCDEGHJK, found in this section, offer additional legroom, thanks to being near the exit row. They're also conveniently positioned close to lavatories and galleys. In particular, seat 24E is equipped with a bassinet, catering to families with infants.
However, seats 35AK don't have windows, which might be worth considering when choosing a spot to sit.
In the last two rows – seats 36ABCDGHJK and 37DEG, to be precise – it's important to note that these seats might not recline as much as others. Also, due to their proximity to the lavatory and galley, passengers in these rows might experience some noise and activity.
Etihad Boeing 787-9 Layout 2

Seating details
| | | | |
| --- | --- | --- | --- |
| Class | Pitch | Width | Seats |
| Business | 73/73 | 22 | 28 |
| Economy | 31-32 | 17.1 | 271 |
Business
In the Etihad Business Class 787-9 section, the seats are set up in a simple 1-2-1 arrangement, and they're designed as flat beds facing each other for extra comfort.
Taking a closer look, seat 5CH stands out in this class. Unlike the rest of the seats, which come in pairs, these are single seats. But there's a catch – each of these seats is positioned with a toilet just in front.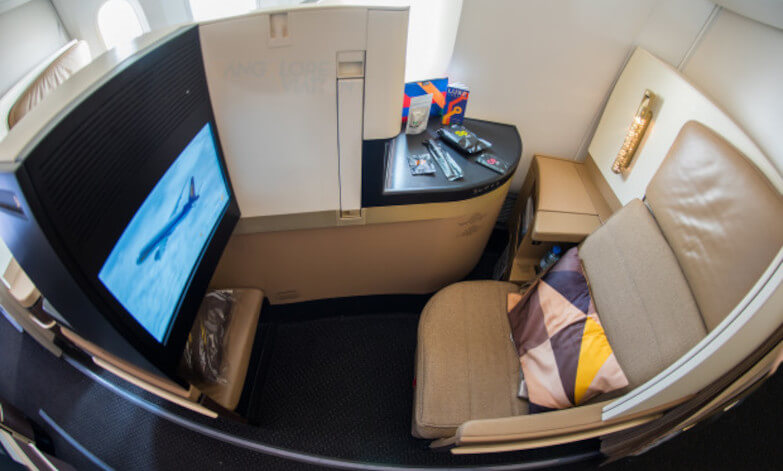 Moving on, seats 5EF on the seat map are placed with a galley area right ahead. This setup ensures easy access to refreshments and meals.
For those considering seat 9CH on the Etihad 787-9 Business Class, it's important to note that these seats don't have windows, which might be something to consider when choosing a spot.
When you reach seats 11CEFH, you'll find a galley area located behind them. Additionally, in this row, you'll spot a bassinet next to each seat. This thoughtful addition caters to passengers travelling with little ones, making the journey more convenient for families.
Economy
The Economy cabin with a 3-3-3 seating configuration is separated from the Business Class by a middle section housing the galley area and an exit row. This design ensures a clear divide between the two classes.
Starting with the front part of the Etihad 787 Economy cabin, which is row 15, passengers will find that these seats have somewhat limited legroom due to the bulkhead and their proximity to the galley. What's more, the tray tables are fixed in the armrests, which can affect the seat width, making it slightly narrower. For takeoff and landing, there's no floor storage available in these seats. Families will be pleased to know that bassinets are provided in this row for their convenience.
On the other end of this section, in row 30, you'll find seats situated near the toilets, which can be handy but also might result in some commotion.
Transitioning to the second part of the Economy Class of the Etihad 787 Dreamliner, starting from row 31, passengers will notice increased legroom due to the exit row situated in front. The convenience of nearby toilets is maintained here as well. Just like in the first section, the tray tables continue to be attached to the armrests, which might affect seat width. Rows 31DG boast bassinets for those travelling with infants, while the seats in row 31AK might have less space due to the exit door placement.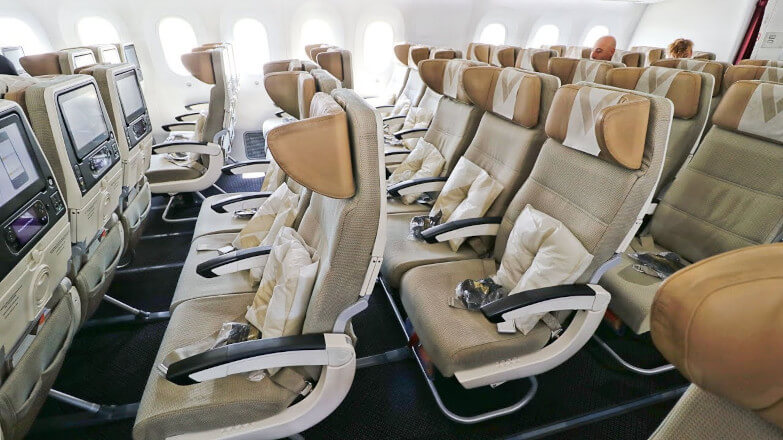 It's worth mentioning that seats 41AK on the seating configuration have windows that aren't quite aligned properly, potentially impacting the view. Meanwhile, seats 42AK, unfortunately, have no windows at all, which might be a consideration for those who enjoy looking out during the flight.
As you approach the back of the Boeing 787 Etihad, seats 43BH, 44ACDGHK, and 45DEG are situated close to the galley and lavatory. And speaking of row 45DEG, as the last row of the plane, these seats might offer limited or no recline, just something to keep in mind for those seeking maximum comfort.