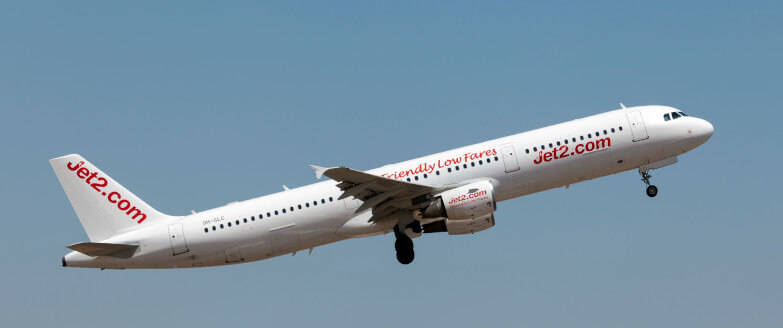 Overview of Jet2 A321
A key component of Jet2's fleet is the narrow-body, twin-engine A321 aircraft. It is a dependable and effective plane that gives passengers a relaxing and delightful flight. The Jet2 Airbus A321 has a roomy interior and cutting-edge technology, making it ideal for short- and medium-distance flights.
The seating plan shows that the Jet2 A321 has a roomy cabin design that makes it easy for passengers to roam during the flight. The plane has cosy seating configurations that offer the best support and comfort throughout the flight. There will be plenty of legroom and moveable headrests for passengers.
Personal entertainment systems with an extensive range of films, TV shows, music, and games are available in each seat. During their journey, passengers can enjoy a customised entertainment experience. WiFi is available aboard the Jet2 A321 so that travellers may remain in touch with loved ones, access the internet, and stay connected while travelling. There might be internet bundles for sale.
Passengers can unwind and acclimatise to different time zones thanks to the unique mood lighting systems installed in the cabin. Modern soundproofing techniques were used in the architecture of the Jet2 A321 to lower noise levels within the cabin and provide a more quiet flying experience.
On board, Jet2 A321 sells a variety of delectable foods and drinks. Passengers can choose from snacks, hot and cold meals, and refreshing beverages to sate their appetites during the journey.
Jet2 Airbus A321 Layout 1

Seating details
| | | | |
| --- | --- | --- | --- |
| Class | Pitch | Width | Seats |
| Economy | 28-30 | 17.6 | 218 |
Economy
The first six seats on the Jet2 A321 are standard Economy seats with a minor inconvenience. Due to their placement close to the bulkhead, these seats give more legroom. However, their closeness to the galleys and restrooms is a drawback, which could be troublesome due to increasing passenger flow. This issue also affects seats 2C and 2D.
In the Economy Class, seats 9BCDE have a unique feature, which is the crew seat immediately after 9E. These seats are aligned on the row immediately before the exit row. However, they cannot fully recline because this location is close to the exit row. The upright position of the seat must be maintained by passengers in these seats the whole flight.
Because they are close to an exit, seats 10ABCDEF give travellers more legroom. While this may increase comfort, it's crucial to remember that during takeoff and landing, no storage space is accessible on the floor beneath these seats.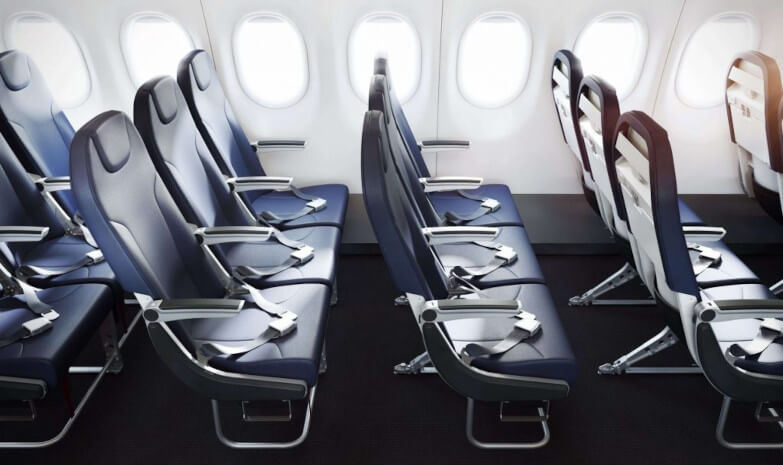 The row of seats 23ABCDEF is directly in front of the exit row. Because of this, these seats conform to safety rules because they cannot recline. These seats are more popular with travellers who want to stretch legs than conventional Economy Class seats, even though they cannot recline, which may be a negative for specific customers.
Due to their proximity to the exit row, seats 24BCDE offer travellers more legroom. With its distinctive design, seats 25AF provide more legroom. This is made possible by avoiding having a seat in front of it.
Close to the galley and restrooms are seats 36CD and 37ABCDEF. Seats 36CD are frequently chosen by passengers who value comfort and want quick access to the restrooms and galleys.
The seating chart shows that the last row of the Jet 2 A321 is home to seats 37ABCDEF. These seats can only recline a small amount because of their positioning.
Airbus A321 Jet2 Layout 2

Seating details
| | | | |
| --- | --- | --- | --- |
| Class | Pitch | Width | Seats |
| Economy | 28-30 | 17.6 | 220 |
Economy
Seats 1ABCDEF in the Economy Class on the A321 Jet2 have less space for your legs because they are behind a bulkhead. Furthermore, some people may find the closeness to the toilet and kitchen unpleasant.
Seats 2CD are located in the first row of the Economy Class cabin, along the bulkhead wall. These seats have constrained legroom as a result. The closeness to the galley and restroom could also be a problem.
Due to the exit row being behind them, seats 10ABCDEF cannot recline. Also, there is a crew seat behind 10F. Due to their placement close to the exit row, seats 11BCDE give travellers more legroom. Similarly, the lack of a seat in front, where 11A and 11F should have been, gives seats 12AF more space for taller passengers.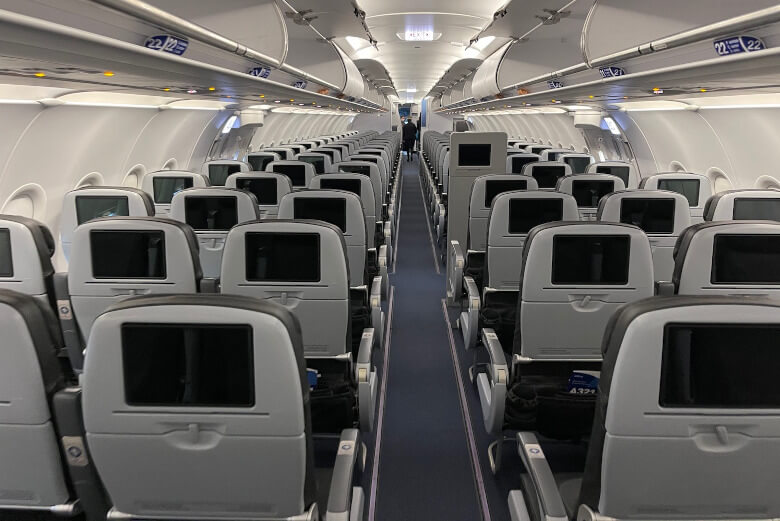 Due to the exit row behind them, seats 25BCDE cannot recline, and there is a crew seat where seat 25F should have been. Extra legroom is available in seats 26AF. It's crucial to remember that the exit door's presence can result in a protrusion, which might annoy some people. It's important to note that these seats lack windows.
Due to their placement close to the exit row, seats 26BCDE provide travellers with more legroom. However, unlike the other seats in this row, this one has no floor storage for takeoff and landing.
Based on the seat map, the restrooms and the galley are not far from seats 36CD and 37D. Due to increased passenger activity and potential noise, this proximity may be annoying.
In the last two rows of the Airbus A321 Jet2, seats 37ABC and 38EF are located. As a result, these seats can only slightly recline. Additionally, some passengers may find it uncomfortable to be located so close to the restrooms and galley towards the back of the aeroplane because of increased passenger activity and noise.