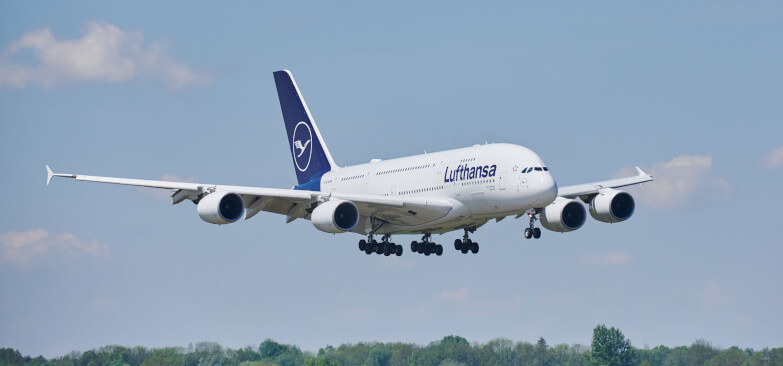 Overview of A380 Lufthansa
The magnificent Lufthansa A380 serves as the airline's flagship. It is the heaviest passenger aeroplane ever built. The A380 reaches 73 metres in length and 24 metres in height. It is a remarkable engineering marvel, given that its takeoff weight may reach 560 tons.
Based on the seat plan, there are 509 seats available inside the Lufthansa A380, with a cabin width of 6.6 metres on the Main Deck for Premium Economy and the majority of Economy passengers and 5.9 metres on the Upper Deck for First Class, Business Class, and a few fragment seats of the Economy passengers.
First Class passengers enjoy the height of luxury, seclusion, and attentive care. The roomy suites have plenty of storage, flat beds, and luxurious linen. First Class provides unparalleled luxury and refinement with exquisite décor and exceptional amenities.
On the A380 Lufthansa, travelling in Business Class with Lufthansa is an incredible experience. Passengers benefit from lie-flat chairs that may be converted into cosy beds, allowing them to reach their destination relaxed. Private accommodations, personal service, and entry to upscale lounges are all features of the Business Class section of the aeroplane.
Lufthansa's Premium Economy Class offers flyers an improved travelling experience by bridging the gap between Lufthansa Airbus A380 800 Business Class and Economy Class. Wider chairs with more legroom and recline are available to passengers. The seats have extended leg rests, adjustable headrests, and adjustable footrests to improve comfort. Additionally, passengers benefit from improved dining options and access to various in-flight entertainment options.
On the Airbus A380 Lufthansa, the Economy Class offers spacious, comfortable seats with individual entertainment screens. Movies, TV shows, music, and games are entertaining alternatives for passengers. On the flight, meals and drinks are offered.
The comprehensive in-flight entertainment system on Lufthansa's A380 ensures passengers have a pleasurable flight. Many movies, TV series, music, games, and other content are available on the individual seatback screens. In a world of entertainment alternatives, passengers can personalise their entertainment experience to suit their tastes.
Lufthansa A380 Seat Map (A380-800)


Seating details
| | | | |
| --- | --- | --- | --- |
| Class | Pitch | Width | Seats |
| First | 81/81 | 31 | 8 |
| Business | 64/78 | 20 | 78 |
| Premium Economy | 38 | 19 | 52 |
| Economy | 31 | 18.2 | 371 |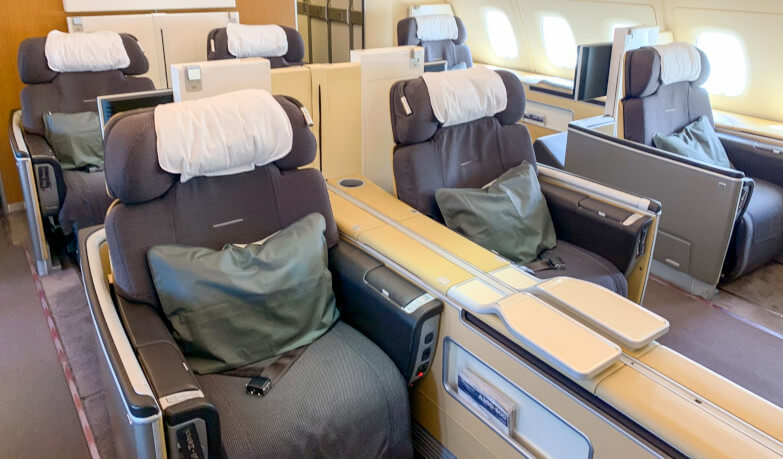 The Lufthansa A380 First Class upper-deck cabin gives passengers the ultimate elegance, comfort, and seclusion. Individual suites or private pods are typically configured 1-2-1 in the layout pattern. The suites' use of high-end materials creates an opulent and exclusive ambience. They also provide plenty of room for storing personal items.
Business
Moving on to the upper deck of the Lufthansa A380 Business Class, configured in a 2-2-2 layout. Seats 10ACDGHK, typical Business Class Bulkhead seats, provide more space and legroom because of a bulkhead. These seats are nevertheless helpful for Business Class guests who value comfort and space despite being close to the lavatories and galleys.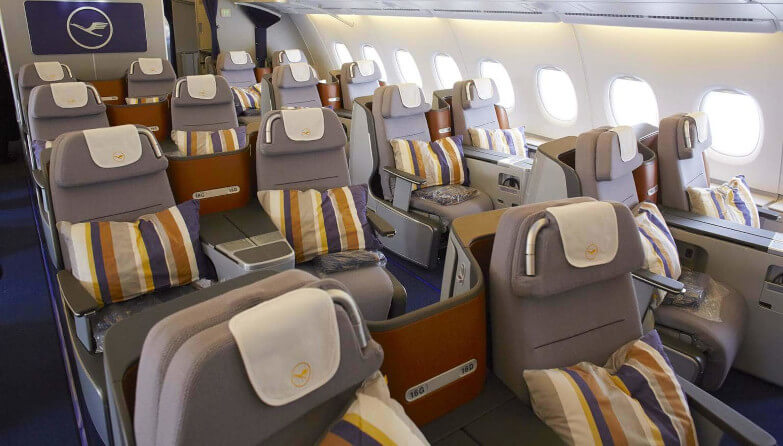 Seats 21ACDGHK, which feature bulkhead seats on the seating chart, are close to the galley and can be preferred over the others amongst the ones indicated. Although there may be some noise and bustle due to their proximity to the galley, they offer additional legroom and space. Furthermore, by staying away from the lavatories, passengers can avoid any potential disruptions brought on by frequent use.
Seats 20ACDGHK may be better for travellers looking for places to sit with the least hassle. Despite being adjacent to the galleys and lavatories, these seats have no unique advantages. But even if other seats are taken or unavailable, these might still provide a relaxing trip.
Premium Economy
There are a few alternatives to consider while selecting the best seats in the Premium Economy Class configured in a 2-4-2 layout on the aeroplane's main deck. Seats 50ACHK is one of these choices. They stand out because they are close to the bulkhead because of the additional legroom they provide. According to passengers, these seats are excellent for couples because they offer lots of space and comfort. These seats may not be the best option for lone passengers.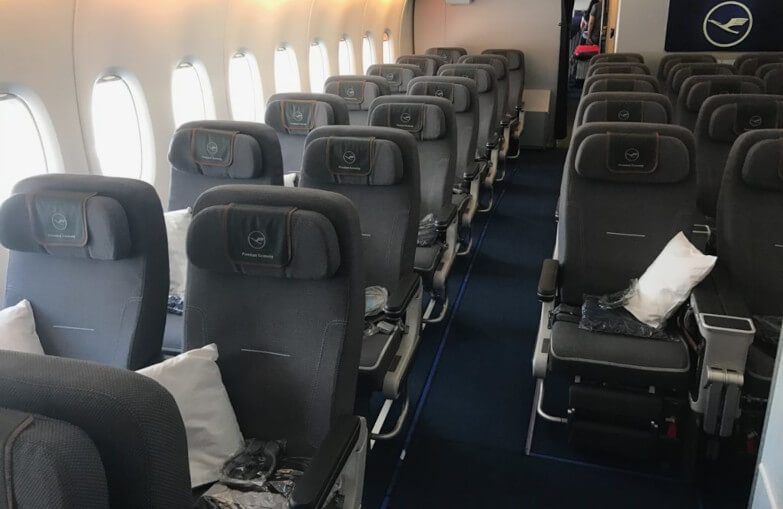 Seats 52DEFG on the seat map Lufthansa A380 are another row that can provide more room for your legs. These seats are also close to the bulkhead, giving you more room to spread your legs. This includes seats 56CDEFGH and 56ACHK. These seats are close to the lavatories and galleys, which could be a hassle.
Main Deck (3-4-3 layout)
The Lufthansa Airbus A380 Economy bulkhead seats are 60ABCDEFGHJK. While these seats on the seat plan feature more legroom, the increased bustle and noise from being so close to the galleys may make them uncomfortable. Seats 74ABCDEFGHJK are close to the lavatories. Despite having no specific benefits, they may be inconvenient due to potential noise and passenger traffic because of their proximity to the lavatories.
Based on Lufthansa Airbus A380 800 seat map, seats 75BCHJ have more legroom because they are close to the exit. They are, however, also close to the lavatories, which may be uncomfortable. Additionally, seats 76DEFG are close to the lavatories, which could disrupt the flight. The armrests are fixed due to the tray table slightly narrowing the seat.
Because there are no seats in front, seats 76AK have more legroom. In terms of comfort and spaciousness, these seats are advantageous. Near the galleys are seats 87ABCDEFGHJK. Despite having no particular advantages, they may be inconvenient given the galleys' increased activity and potential loudness.
Bulkhead seats 88ABCDEFGHJK are next to the galleys. Altho these seats offer more legroom, they could also have the same problems as the seats listed previously. In the final row of the aeroplane, adjacent to the lavatories, are seats 94ABCDEFGHJK. Similar to other seats near the lavatories, there can be some annoyance from passenger flow and noise.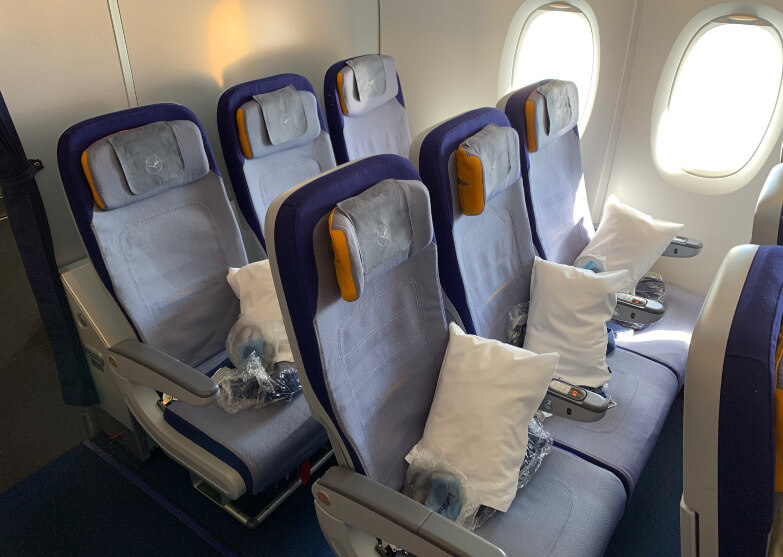 Upper Deck (2-4-2 layout)
The fact that seats 95AK are next to the exit on the A380 seating plan Lufthansa means they have more legroom. However, the lack of some windows in these seats may be unpleasant for travellers who love gazing out the window while flying. Due to their proximity to the exit, seats 95CDEFG offer more leg space.
Seats 98ACGHK and 99DEG, next to the restroom and galley, would not be the best choices due to potential interruptions from noise, passenger traffic, and increased activity.