Lufthansa 787 (787-9) Seating Plan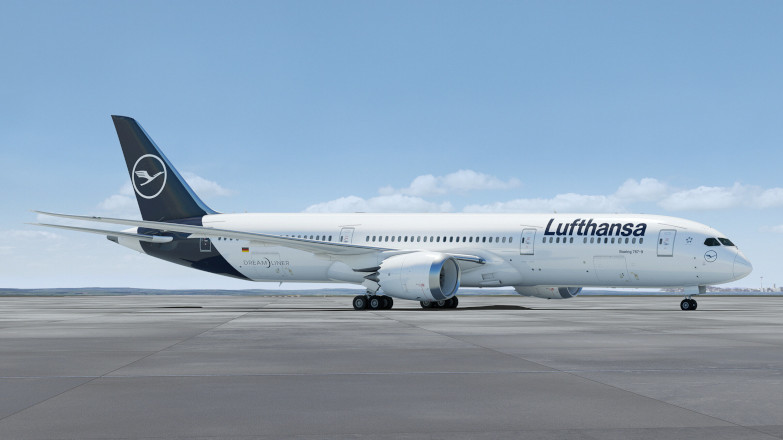 Lufthansa 787 Overview
In 2023, Lufthansa boasts a fleet of five state-of-the-art Lufthansa 787 aircraft. The Boeing 787-9, often hailed as a marvel of modern aviation technology, offers passengers an unparalleled travel experience. Thanks to its innovative design, this aircraft features a cabin with higher humidity levels, a reduced pressure differential, and generously-sized windows, all of which combine to provide an elevated level of comfort for travellers. Furthermore, the advanced engines on the B787-9 are engineered for quieter operation, ensuring a more peaceful journey for passengers.

| | | | |
| --- | --- | --- | --- |
| Class | Pitch | Width | Seats |
| Business | 46 | 22 | 26 |
| Premium Economy | 38 | 19 | 21 |
| Economy | 32 | 17 | 247 |
Business
Step into the lap of luxury when you choose to fly in Lufthansa 787 Business Class. This premium experience boasts 26 carefully arranged seats in a 1-2-3 pattern, offering passengers a spacious environment to savour gourmet meals and enjoy the top-notch in-flight entertainment. The attentive cabin crew goes above and beyond to provide personalized service, ensuring that every passenger's needs are met.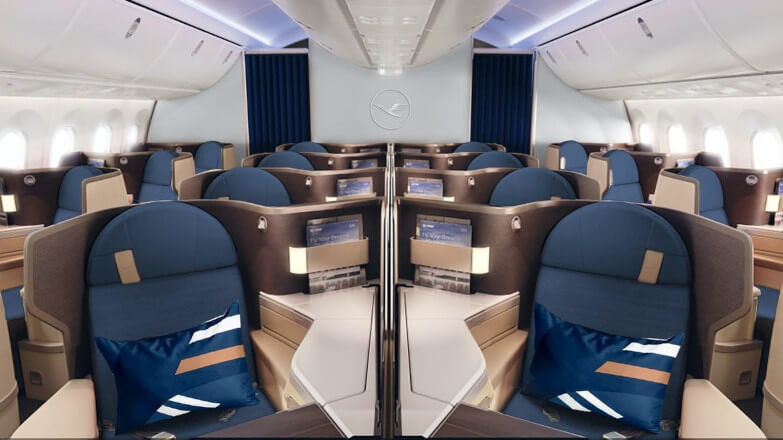 However, for travellers who may have specific preferences or concerns, it's worth taking note of the seat placement in this cabin of the Lufthansa 787. Seats 1AK and 2DG are situated in close proximity to the galley, which can be advantageous for those who appreciate quick access to onboard refreshments and personalized service from the cabin crew. On the flip side, some passengers might prefer a quieter ambience, in which case, these seats might not be the ideal choice.
Furthermore, seats 7ADGK are strategically located near both the galley and lavatory facilities. This can be a convenient option for those who value ease of access to essential amenities during the flight. However, it might result in a bit more activity and noise during the service periods.
Premium Economy
For those seeking an elevated travel experience, Premium Economy on their Lufthansa 787-9 is the ultimate choice. With a cabin featuring 21 well-appointed seats in a 2-3-2 layout, passengers can indulge in superior comfort and enjoy the luxury of extra legroom. This upgraded class offers an enhanced in-flight entertainment system and a broader array of delectable meal options.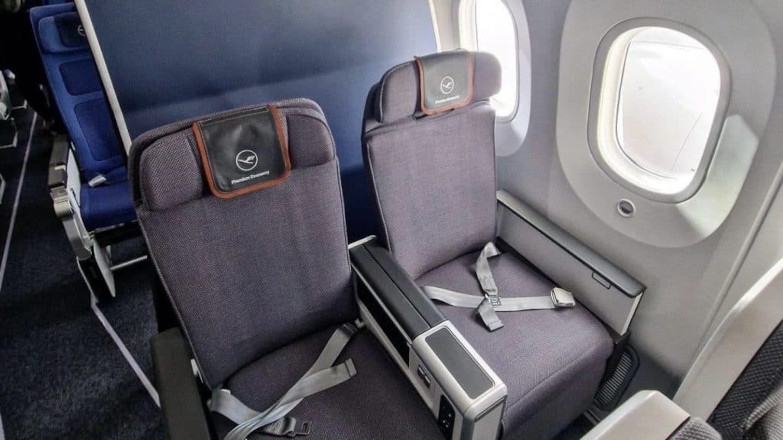 It's important to note that the 8th row marks the initial row in this Premium Economy cabin of the Lufthansa 787-9, but it comes with some considerations. Seats in this row, unfortunately lack underseat storage, and they are positioned in close proximity to both the galley and lavatory facilities, which may result in a bit more activity and noise in this area.
Additionally, for passengers who appreciate window views, it's worth mentioning that all the side seats in this cabin, specifically seats 9AK and 10AK, provide views that include the presence of the aircraft's wing.
Economy
Economy Class on the 787 Lufthansa offers practicality and essential amenities. With a generous seating capacity of 247 arranged in a 3-3-3 pattern, passengers benefit from cost-effectiveness without compromising on essential comforts.
Economy Class is divided into two sections, with the first section commencing from the 11th row. Seats 11ABCDEGHJK in this section provide extra legroom due to their proximity to the exit row in front, but they do come with some trade-offs, notably the absence of under-seat storage and a slightly reduced seat width due to the tray table in the armrest. Furthermore, seats 11ABEJ are equipped with bassinets for babies, catering to families travelling with infants.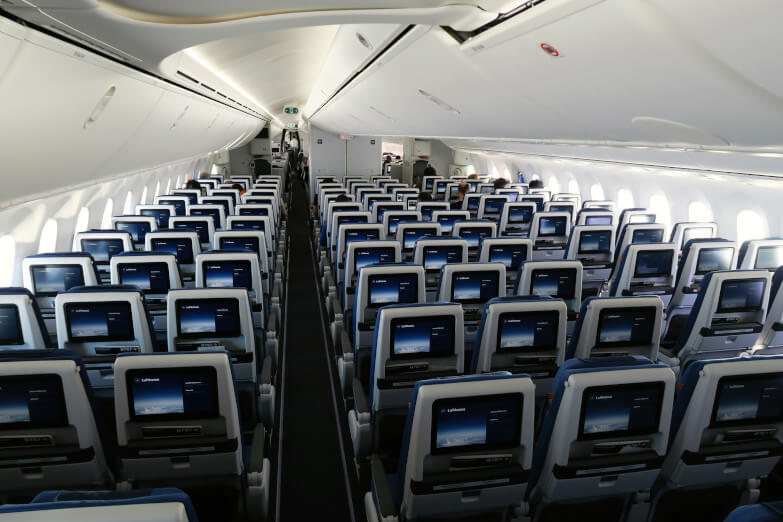 For those who prefer a view of the aircraft's wing, the side seats in rows 11 to 24 offer this unique perspective.
Seats 23HJK, 24DEG, and 25ABC are situated in close proximity to the lavatories, as are seats 24HJK, 25DEG, 26ABC. These seats also come with limited recline. Seat 26A stands out as the least favourable choice on the Lufthansa 787-9 seat map, with a partial or missing window view.
The second section begins with the 27th row, where seats offer extra legroom due to their location in front of the exit row. However, similar to the first section, these seats lack under-seat storage and are in close proximity to the restrooms. Seats 27AK come with the tray table fixed in the immovable armrest, resulting in a slightly narrower seat, and they too offer a partial or missing window view.
Continuing to row 33AK, passengers should note that these seats also have partial or missing window views.
As you approach the rear of the 787 Lufthansa plane, rows 40, 41, and 42 are the last ones in the Economy Class section. Passengers seated here should be aware that they are close to the galley and restrooms. Additionally, seats 40ACHK and 42DEG do not recline, offering a different level of comfort compared to other seats in the cabin.
Lufthansa 787-9 Allegris Seat Map
| | | | |
| --- | --- | --- | --- |
| Class | Pitch | Width | Seats |
| Business | 50 | 20 | 28 |
| Premium Economy | 39 | 19 | 28 |
| Economy | 31 | 17 | 231 |
Business
Lufthansa proudly presents Allegris, their groundbreaking new cabin concept that redefines Lufthansa 787 Business Class luxury. The Business Class section boasts 28 seats in 1-2-1 and 1-1-1 configurations. The cabin offers passengers a choice of seven distinct seating options, each designed to cater to diverse preferences and needs: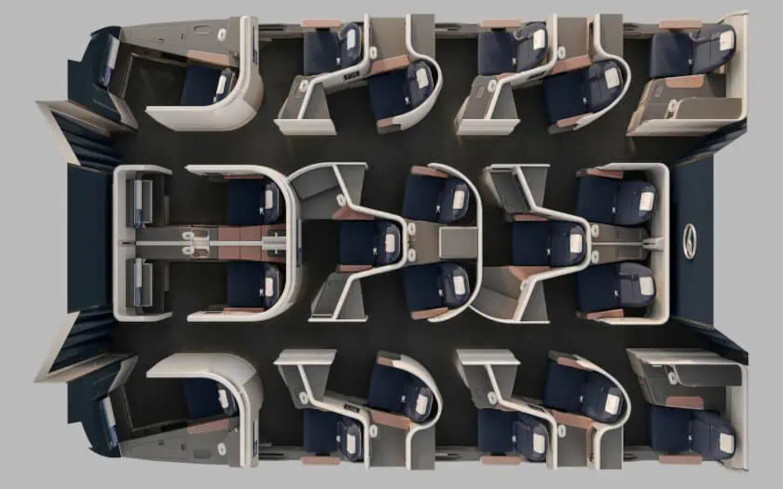 All Allegris Lufthansa 787 Business Class seats come equipped with individual cooling and heating options, ensuring personalized comfort throughout the flight. Passengers can enjoy entertainment on the 18-inch 4K screens, and essential amenities such as AC and USB outlets, along with wireless charging, come standard. Noise-cancelling headphones further enhance the in-flight experience, making Allegris a truly exceptional choice for Business Class travellers.
Premium Economy
Lufthansa proudly introduces Allegris Premium Economy, a class that redefines comfort and privacy. Featuring 28 newly developed seats in a 2-3-2 layout on the Lufthansa 787 seat map, this premium section offers passengers a remarkable 39-inch (99cm) seat pitch, providing more legroom and personal space. The fixed shell back, along with a sliding recline mechanism, ensures that passengers can recline their seats without disturbing those in the row behind.
These well-designed seats also include thoughtful amenities like a footrest, AC and USB charging ports, and a 15.6-inch 4K monitor, complemented by noise-cancelling headphones to create an exceptional in-flight entertainment experience.
For passengers seated in the first row of Premium Economy, there is an added sense of spaciousness due to the extra knee space. However, it's important to note that their proximity to the galley may result in some minor disturbances.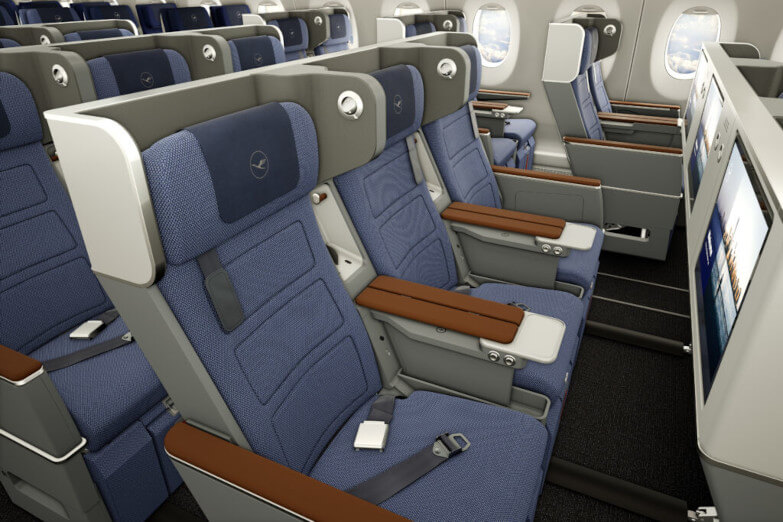 On the other hand, the last row of Premium Economy is not well separated from the Economy Class section. Travellers seeking a quieter experience on the Lufthansa 787 may want to avoid this row, as it could potentially have more noise and activity from the Economy class cabin. Additionally, it's worth mentioning that the lavatories located in front of this Premium Economy section are likely reserved for Business Class passengers, meaning Premium Economy passengers may need to utilize the lavatories further back in the Economy Class section.
With Allegris Premium Economy, Lufthansa has created a refined and comfortable flying experience that caters to the needs of discerning travellers.
Economy
Lufthansa's innovative Allegris concept doesn't stop at premium classes; it extends its benefits to the Economy class section as well. Passengers in Economy can now enjoy an upgraded entertainment system that includes impressive 13.3-inch screens with 4K resolution. What's more, these screens offer Bluetooth connectivity for passengers to use their own headphones, enhancing their in-flight entertainment experience.
One of the standout improvements in this Allegris Economy class is the introduction of seats with at least 3 inches (7cm) of additional legroom, significantly enhancing passenger comfort. These seats are strategically located in the first rows of each section, offering a more spacious feel. In particular, seats 16CH and 28AK provide the greatest legroom. However, it's important to note that the tray table and entertainment screen are located in the armrest, slightly constraining the seat width.
Travellers should be aware that row 26 is in close proximity to the lavatories, so some passengers may prefer to avoid this row due to the potential for increased foot traffic and noise. Similarly, the last two rows near the main galley may experience more activity and noise, making them another area to consider avoiding for a quieter experience.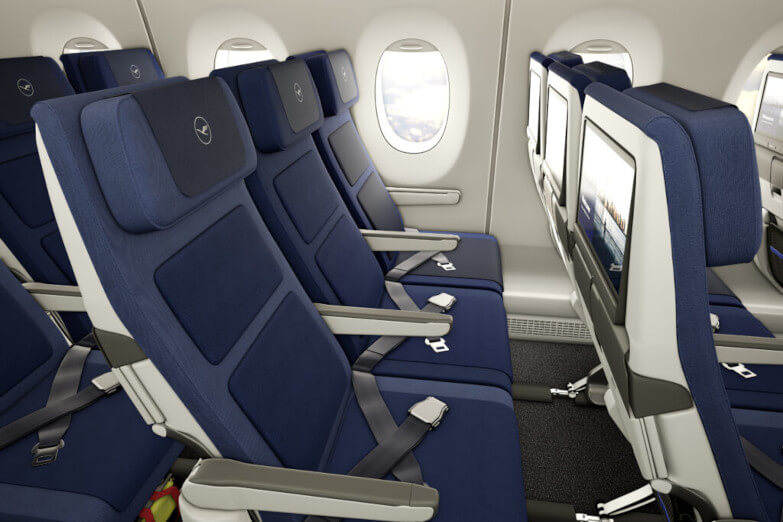 Additionally, it's good to know that seats 39A and 39K on the Lufthansa 787-9 seat map in the Allegris Economy class are missing windows. Passengers who enjoy gazing out at the scenery during the flight may want to choose other seats to ensure they have a window view.
A noteworthy feature offered by Lufthansa is the option to purchase an additional empty seat, providing passengers with added privacy and extra space during their journey. This is an excellent choice for those who seek more personal comfort during their flight.
With Allegris, Lufthansa 787 enhances the Economy class experience by combining improved entertainment options, added legroom, and the flexibility of extra seat purchase, ensuring a more enjoyable and customizable journey for all passengers.