Ryanair 737 Seat Plan (737-800)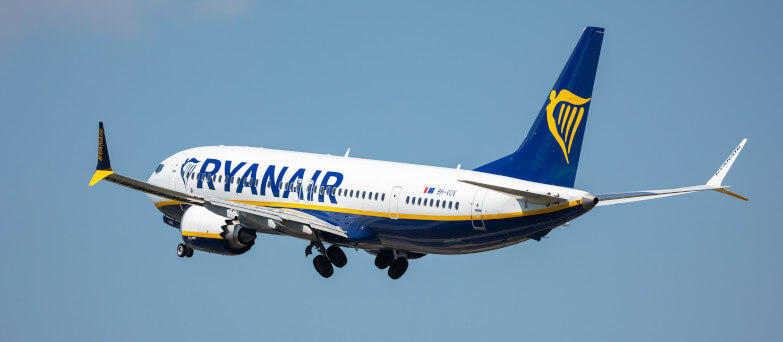 Ryanair 737 800 Overview
The Boeing Ryanair 737, a popular aircraft model known for its efficiency and reliability, has been configured to accommodate a total of 189 seats, thoughtfully organized into a two-class arrangement. It is important to note that none of the seats on this particular aircraft is equipped with a reclining feature, ensuring a consistent and standardized seating experience for all passengers.
In response to the diverse needs and preferences of travellers, Ryanair has introduced Premium seats. Passengers can find these exclusive seats in rows 1 to 5, 16, 17, 32, and 33. By opting for the Premium seats on the Ryanair 737-800, passengers can enjoy a host of attractive benefits, including priority boarding, allowing them to board the aircraft early and secure their preferred spots. Additionally, these seats provide extra legroom, ensuring a more spacious and relaxed journey throughout the flight. Moreover, Premium seat passengers are offered faster disembarkation, enabling them to exit the aircraft swiftly and efficiently upon reaching their destination. To access these premium perks, passengers are required to make a payment of €17 or £15, a reasonable fee given the enhanced travel experience offered.
Furthermore, Ryanair recognizes the significance of choice and flexibility for its passengers and offers Standard seats in rows 6 to 15 and 18 to 31. For a nominal fee of €5 or £5, passengers can preselect any seat within these rows. Additionally, travellers who wish to avail themselves of priority boarding, alongside the Standard seat option can do so by adding a mere €2 or £2 to their booking.
Onboard refreshments of the 737 Ryanair are readily available to cater to passengers' dining preferences. The airline provides a selection of beverages, encompassing a range of choices, including soft drinks, all available for purchase during the flight. Furthermore, on certain flights, passengers are also offered a selection of delectable food items that they can purchase to complement their journey.

Seating details
| | | | |
| --- | --- | --- | --- |
| Class | Pitch | Width | Seats |
| Premium Economy | 32-34 | 17 | 51 |
| Economy | 30 | 17 | 138 |
Premium
The Premium seats on this Ryanair Boeing 737-800 offer a generous seat pitch of 32-34 inches, ensuring ample legroom for passengers to stretch and relax during their journey. The seats also boast a comfortable width of 17 inches, providing adequate space for passengers to sit comfortably. The seating arrangement is configured in a 3-3 layout.
Passengers have the option to select seats 1ABCDEF and 2DEF, which provide extra legroom for added comfort during the flight. However, it's important to note that these seats come with certain considerations.
The design of the tray table is integrated into the armrest of these seats, rendering the armrest immovable. While this feature contributes to the increased legroom, it does come at the expense of seat width, which may be slightly reduced compared to other seats on the aircraft.
Furthermore, during take-off and landing of the Boeing 737-800 Ryanair, passengers seated in these rows do not have access to floor storage due to safety regulations. This means that they would need to stow their personal belongings in the overhead compartments during these critical phases of the flight.
In the case of seat 1ABC, passengers should be aware that they face the crew seats located in front of them. This proximity to the crew seats may offer a different perspective of the cabin experience.
Furthermore, seat 1A, which is situated at the front of the aircraft, may experience some slight protrusion of space due to the aircraft's structure or equipment placement. Although it does offer extra legroom, passengers occupying seat 1A should be mindful of this aspect during their travel.
As for seats 2DEF on the Ryanair Boeing 737-800 seating plan, passengers should be aware that lavatories are located in front of these seats. While this proximity provides convenience, it might result in increased foot traffic around the area.
Passengers should take note of two rows, 16 and 17, which are located between two exit rows in the middle of the Economy cabin of the Boeing 737 Ryanair. These two rows are designed identically and offer the advantage of extra legroom, making them an attractive choice for passengers seeking more comfort during their flight.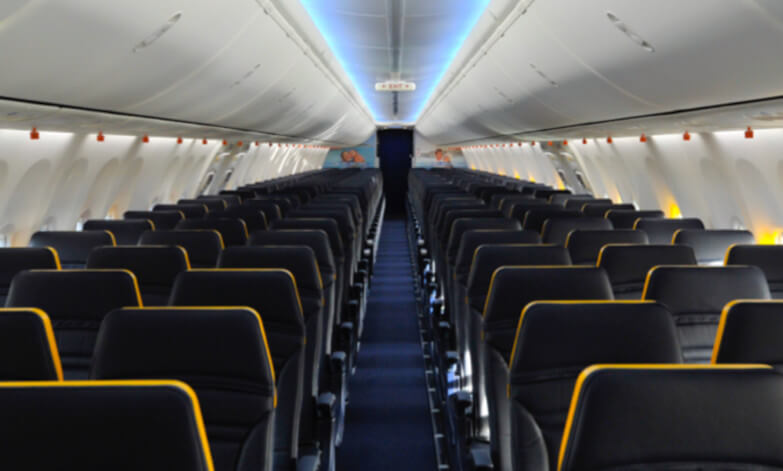 However, it's essential to be aware of certain characteristics of these seats. The tray table is positioned in the armrest, rendering it immovable. The armrest-integrated tray table offers extra legroom but reduces the seat width in comparison to other seats on the plane.
Additionally, due to safety regulations, passengers in rows 16 and 17 do not have access to floor storage during take-off and landing. Therefore, they are required to stow their personal belongings in the overhead compartments during these phases of the flight.
Furthermore, passengers seated in seats 16AF and 17AF should be aware that these particular seats lack windows.
The Premium seats on this Ryanair Boeing 737 can be found in the Economy cabin, specifically in the two last rows. These Premium seats are labelled 32ACVDEF, offering passengers an upgraded travel experience within the Economy class.
The last 33rd row on the Ryanair 737 seat map also belongs to the Premium Class, sharing the same benefits and amenities as the previously mentioned Premium seats. However, passengers in these seats should be aware that they are in close proximity to the lavatories and galley area.
Another consideration for passengers in the last row is that there is no overhead bin storage available for this specific row. These bins are typically reserved for crew and safety equipment. As a result, passengers seated in this row will need to stow their carry-on items in overhead bins located in other sections of the cabin, which may require some additional walking and planning.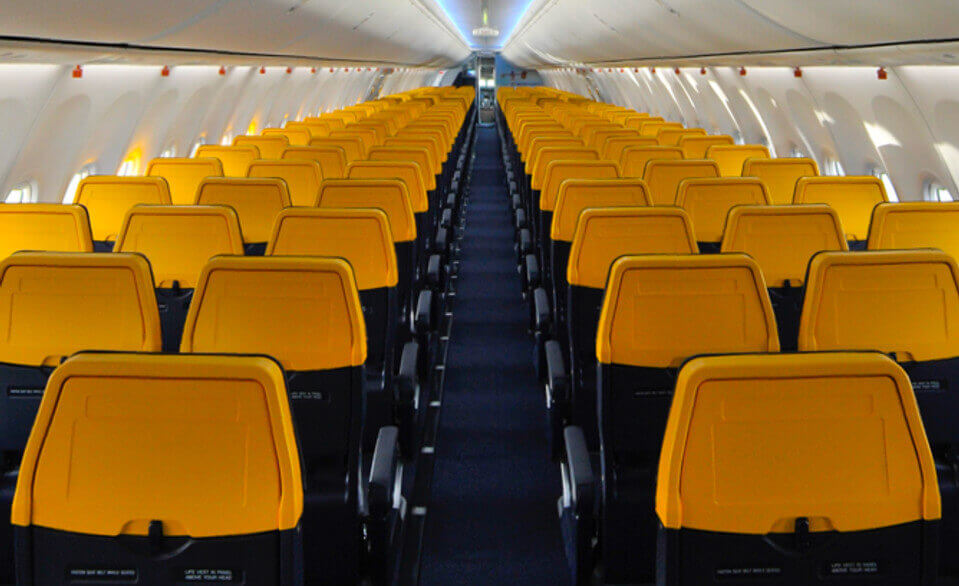 Economy
In the Economy class of this Boeing 737-800 Ryanair seat map, passengers can expect a seat pitch of 30 inches, providing a reasonable amount of legroom for their journey. The seats also offer a width of 17 inches, ensuring a comfortable seating experience for passengers during their flight. The seating arrangement follows a 3-3 configuration, with three seats on each side of the aisle.
It is important for passengers to be aware that seat 11A on this Boeing 737-800 does not have a window. Additionally, seats 12AF are reported to have misaligned seats. This means that the alignment of the seats in this row might not be in perfect symmetry, potentially affecting the overall comfort and seating experience for passengers in these seats.
The remaining seats on this Ryanair 737 are considered standard seats and do not present any particular issues. They do not have reclining capabilities, similar to all the seats on this aircraft. Passengers occupying these standard seats can expect a comfortable and consistent seating experience throughout their journey without any specific concerns or drawbacks.